Satellite Internet is a type of internet service used to deliver broadband Internet services to hard-to-reach users in the under-served regions of the worldwide level. Satellite Internet service is the only viable option for places where internet infrastructure is underdeveloped and capable enough to deliver high-speed Internet access to those who are not able to access terrestrial links such as wired, fiber, and cable options as they live in rural parts of the globe. Satellite internet is a wireless connection spread across satellite dishes that beams data directly from your provider to a satellite in space and eventually to a satellite dish at your home or business - this is how it works.
Why use satellite internet?

The purpose of using satellite internet is to provide easy access to communication networks to the people who live in hard-to-reach geo-locations. Further, satellite internet service can be utilized in those places where various types of land-based internet (Terrestrial) connections like broadband, fiber optics, cable internet, etc., are not established; those areas with slow Digital Subscriber Line (DSL) or unavailability of cable and fiber connections or have limited reach. Using Satellite Internet, people can access email, video streaming, establish communication to remote locations such as oil rigs, research units, visit social media platforms and connect to distance learning courses, and many more.





Some of the important features include




Internet speed will not be affected during peak use times as satellite internet connections can carry high bandwidth usage.
Satellite internet does not require any terrestrial connectivity hence faster to set up.
Services could be availed on land or sea in any location on the globe.
Faster internet speed, low latency, and high throughput are must-have factors for satellite internet service. But the reality is satellite internet faces trouble with internet speed and latency.
Some of the satellite internet cons are as follows:
GEO satellites would always have high latency as they tend to be located at 26000km altitude, so the latency is dependent on the speed of light, which would approximate 650ms of delay for IP packets to travel back and forth.

LEO satellite providers will have low latency compared to GEO satellites. However, data throughput will be limited to the density of LEO satellites and capacity as beams of such satellites will cover a larger area.

Bad weather impacts the signal path of the satellite internet connection. For example- during rainstorms, and severe bad wind, users will experience poor quality internet.

Poor latency or high ping rate of satellite internet will affect users to send and receive files (not in a faster way) as the latency and ping rate is essential to test how long it takes to communicate between another computer, device, and server in a network. For example, for gamers who plan to use VoIP services, satellite internet is not good for them due to its poor latency, or a high ping rate.

Minor obstructions such as branches or buildings can affect the quality of your signal. For example, users who have taken a satellite internet connection will face major problems, especially if they live in areas covered with woods, metal interference, etc.

Satellite internet is quite expensive as compared to cable internet. For example, users will pay around $100 per month for speeds of 2 Mbps when they use satellite internet, an amount that is twice what cable internet users pay.
Despite all these drawbacks mentioned above, satellite internet is a fantastic option for users living in rural areas or other locations where the terrestrial network is not available. However, the only problem that matters is the quality of performance and stability of the satellite network.
Satellite backhauls for 4G networks
In recent years there have been significant technological improvements in satellite-based broadband, and the number of providers is on the rise (for example, Starlink, OneWeb, etc). Many of the MNOs have been using satellites as backhaul for 4G base stations in locations where terrestrial links are not possible. By doing so, MNOs can not only increase their network coverage in rural or extremely hard-to-reach areas but also enables communities to use smartphones for their day-to-day life. Many of the current 4G base station manufacturers now support satellite-based transmission, however, 4G base stations need stable satellite links with minimum bandwidth and latency requirements across the clock to provide voice and data services.
Following setup shows on how validation can be performed on satellite-based networks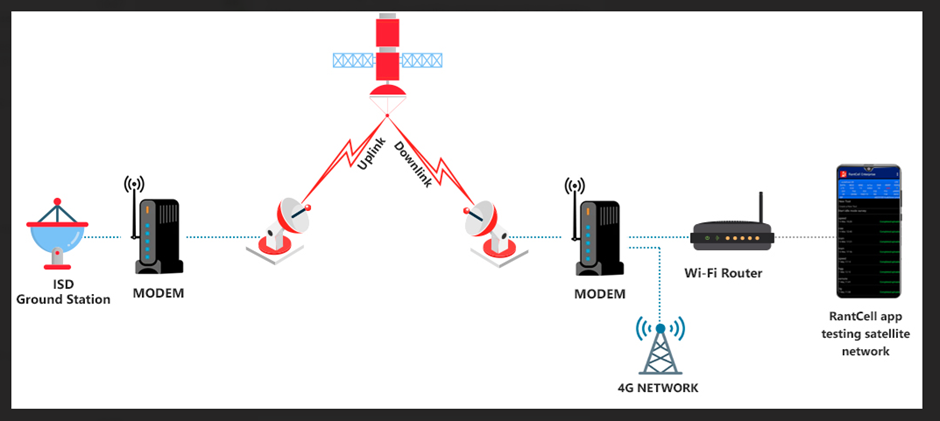 The test setup shown above can be used to validate satellite network KPIs such as data speeds, latency, etc., for a longer period. Automation validation is possible with RantCell, as you can validate your network performance, quality assurance, and quality of experience (QoE), thereby gaining a histogram of data to compare and confirm if the solution is suitable for customer needs. It's also possible to validate 4G base stations' end-user performance by running automated voice and data tests.