Need for Mobile Network Benchmarking
The purpose of Mobile Network Benchmarking is to compare the quality of mobile network services (QoS) by measuring KPIs, which represent the user experience of services offered by all mobile network operators (MNOs) in a given region or location. For the operators, quality of experience (QoE) is one of the crucial factors that drive differentiation among other operators in terms of best network service, reducing churn, and increasing revenue. Subscriber growth can be achieved by providing a good Quality of Experience. RantCell is network benchmarking solution and an effective way to provide you with better clarity about the status of the MNO by checking the maximum average throughput in any specified locality and other key KPIs.
RantCell for Mobile Network Benchmarking

RantCell is a mobile network benchmarking tool that supports voice and data testing, by using such a tool, telecom operators can measure network user experiences (QoE) such as coverage, latency, Voice call KPIs and speed performance across networks.Wireless network performance tests can not only be conducted for your own network but also for competitor MNOs in larger clusters such as cities, towns, etc.
Some of the KPIs that are supported by RantCell are as follows:
User experience KPIs such as Data speed (download speed test & upload speed test), Voice calls, SMS test, Ping test (latency), iPerf, web test and YouTube performance, etc.

Mobile network performance monitoring can be performed simultaneously for up to 6 MNOs.
In addition, RantCell supports RAN analytics for MNO analysts to arrive at root cause analysis and improve the network. Solution can also be used for RAN monitoring or RAN testing and 5G RAN testing.
Much more efficient compared to traditional tools
Compatible on the majority of commercial grade Android phones, all you need is phones, power chargers, RantCell app and no additional equipment.

Can be operated by non-technical staff.

Cloud based technology no logs concept all test data uploaded in real time.

Web based interface for analytics, solutions to compare performance between operators.

Location based search i.e., users can load the data by entering address or by date and time query.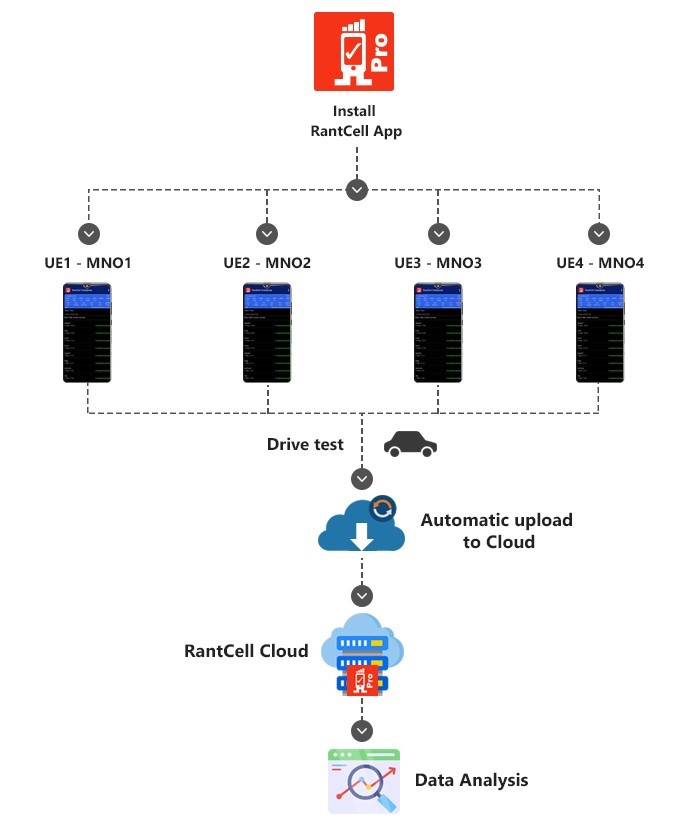 Insights into your competition
RantCell enables companies to track the performance trends of their competitors. This means, by using RantCell mobile operators across the world can understand which spectrum bands are used where, as well as track the roll-out of new cell site locations.

Mobile phone companies can identify locations of competitor sites and track the roll-out of new sites.

Monitor competitors' network performance and usage hotspots 24x7.

Recognise competitors' spectrum usage and performance etc.