INDOOR TESTING / WALK TESTING WIRELESS SURVEY SOFTWARE (5G,4G and Wi-Fi)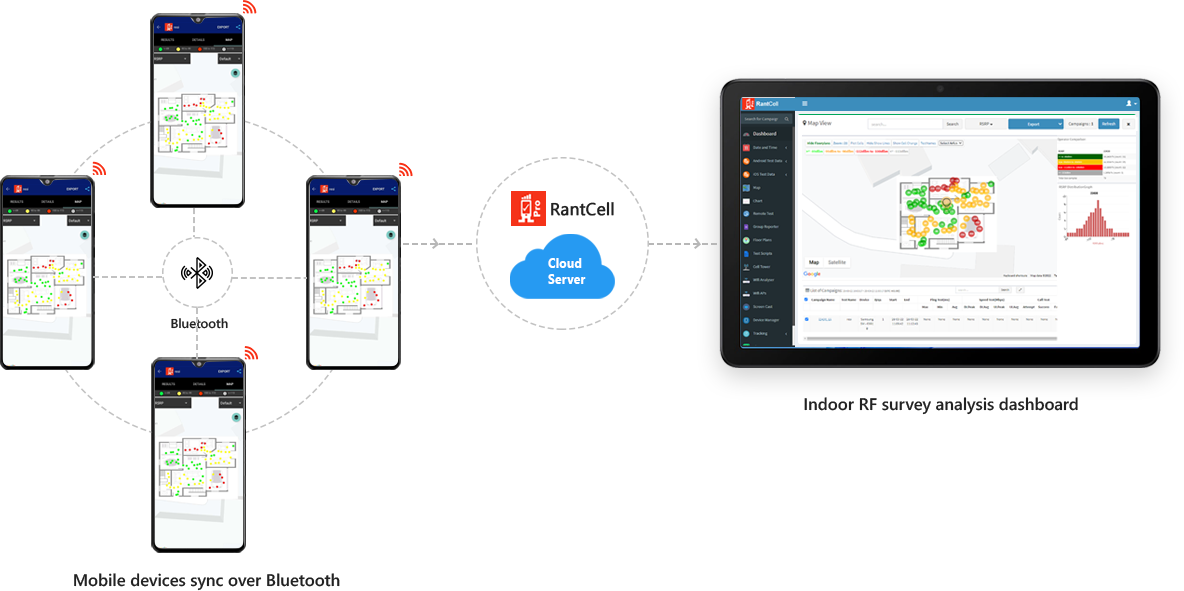 More than 70% of cellular network traffic is generated indoors and some of the Best Wireless Network Survey Software like RantCell will provide the industry-standard indoor RF- measurement capabilities, hence it's important to have a strategy to measure indoor cellular coverage, network Quality of Experience (QoE) to optimize the network to provide better Quality of Service (QoS) and in building wireless solutions to customers. For example, Consistent call drops in specific indoor locations with a high number of users in large office venues will lead to customer churns.
Though practically, it's impossible to test all indoor locations due to high cost in logistics, resourcing, and costs involved in RF measurement tools, RantCell has come up with an app with capabilities to perform Walk Test, which is a cloud-based disruptive technology to accurately measure indoor mobile network user experience from small to large venues and help our customers (building owners) to make decision on investing on in building solutions or in-building mobile coverage solutions or in building cellular solutions to improve the mobile network user experience for occupants. 
With RantCell App, transform any Android smart phone (Supported devices) into indoor cellular QoE measurement tool by loading floor plans for performing walk tests in large venues such as shopping complex, multi-story building, airports, train stations, offices to small residential homes.
RantCell Automated PDF Sample Reports for indoor walk test

Try our 7 days Free Trial

Key Benefits

With RantCell app, transform any Android smart phone to test indoor coverage tool by loading floor plans or map of building.

Users can easily load small to large floor plans (any shape of building) from Android photo Gallery and overlay on Google indoor map satellite view of buildings.

Floor plans and reports are stored centrally on cloud and can be shared among your colleagues.

Ease of operation, tests and indoor navigation could be conducted by a non-technical staff also.

Generate indoor PDF reports by click of button

Test data is uploaded to RantCell Cloud server in real-time.

Online Web-based dashboard indoor floor plan for post analysis.

Cost effective, no investment required on specific hardware and post analysis tools etc.

Available as an online subscription plan starting from $125/month.

Highly scalable in excess of 100++ devices on RantCell Enterprise solution and upload as many floor plans as you need.
Use Cases

5G in building solutions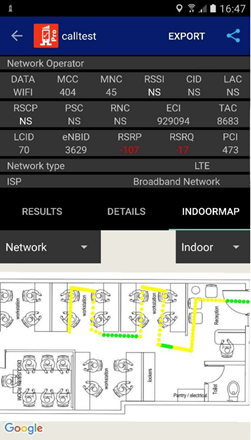 Indoor Small cells and indoor DAS/repeater deployment validation

Validate coverage, user experience on das in building wireless solutions or in building das solutions. Equip large number of field engineers with RantCell app and validate the performance of your deployments against designs. Visualize survey reports in seconds or in real-time in RantCell web-based dashboard while the tests are carried out in the field. Accelerate your indoor deployments through our solution.
Compare indoor mobile network performance with competitors

Survey multiple mobile network carriers and generate automated carrier coverage map with comparison reports to identify the best network and worst network with QoE within the specific indoor area. Visualize automated reports on KPI's. Analyse and identify the best network to use indoors Benchmark and generate reports on QoE such as CSSR, data throughput KPIs, and coverage between network operators.
Manage Indoor coverage complaints remotely without field visit

Majority of network coverage related complaints are indoors and most of them require engineer visits to customer premises to perform survey of network entailing huge operational costs. Our RantCell technology facilitates customers to raise a self-service style complaint from their smart phones along with basic QoE indoor survey reports to the RantCell Cloud to RF optimisation engineers to perform initial assessment remotely. This enables operators or vendors to either resolve the issue remotely or to strategize the field visits, thereby reducing costs. For more information on this, please Contact Us or email to sales@rantcell.com
Aviation onboard network benchmarking

Mobile network benchmark 4G/Wi-Fi services for passenger on boarded aircraft connected via satellite backhaul and ground network.

Load floor plans of passenger aircraft and benchmark signal levels and user experience of mobile network precisely on each passenger seat.

Get real-time view of user experience from multiple fleet of aircrafts.
Use RantCell for Indoor Wi-Fi Coverage

As one of the apps-based best Wi-Fi Site Survey software tools, the RantCell app provides accurate measurement of user experience indoors which can be compared with a predictive Wi-Fi survey app report.

In RantCell solution Wi-Fi survey tests the actual propagation of Wi-Fi signals indoors. By performing pre survey of Wi-Fi coverage the risk of installation of in-building solutions / in building solutions telecom or ibs telecom can be more accurate. Hence RantCell plays a complementary role in the actual measurement of user experience in buildings which can generate final survey reports to validate the Wi-Fi solution.

By uploading floor plans via the RantCell app Wi-Fi survey can be performed. Data can be Visualized on RantCell Web Dashboard with Google Maps and custom floor plans.

As part of the Product Roadmap, we are researching on iOS platforms with an aim to provide the best iPad wireless network survey tool. Unlike the predictive iPad wireless site survey app, RantCell will give accurate and actual user experience data results.