4G LTE Network Testing Solution
Performing end-user experience testing in 4G LTE network solutions is a crucial part of every operator and service provider. Why it's important for wireless carriers? Because network testing solution on 4G LTE helps them to determine how their networks are performing (good or bad) and enables them to provide greater quality of experience to users on their network. Further, network testing solutions will enable Mobile Network Operators (MNOs) to measure the stability of mobile networks for a high-quality experience at the subscribers' end.
Are you a mobile operator or service provider looking for a 4G LTE network testing and monitoring solution to measure your network performance, such as QoE? Are you looking for a non-traditional method of testing for 4G LTE networks, which can give you a convenient, time-saving, and lightweight solution? If yes, RantCell Pro is one of the best 4G tester or 4G network tester, or 4G LTE tester to choose from. RantCell is a SaaS-based software/tool, which enables providing 4G LTE indoor testing, 4G RF drive testing, and 4G and 4G LTE network monitoring solutions.
Solution Highlights :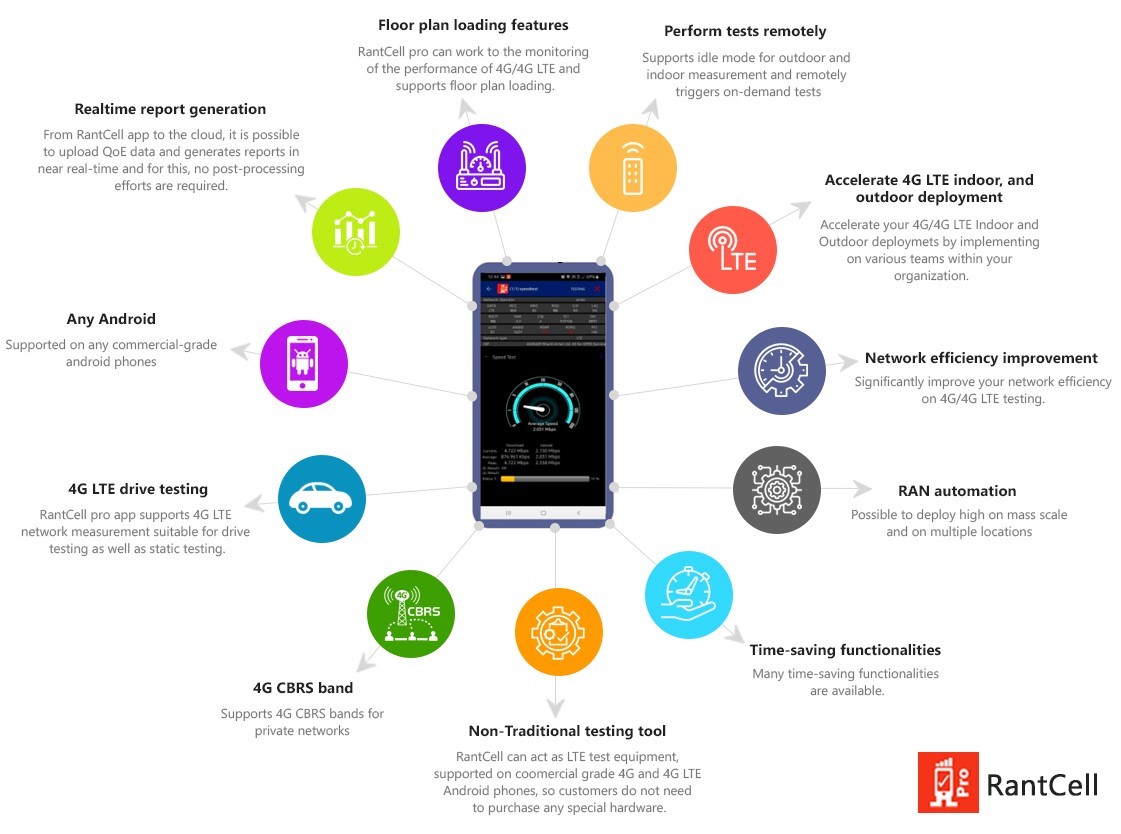 RantCell pro app supports the following types of tests
Ping test
RantCell works as a ping test tool that measures the latency in milliseconds for a packet of data on 5G networks. Also, it uses a 4G network latency benchmarking tool to measure the overall time of each packet until it reaches its destination and returns to the source.
5G speed tests
RantCell is a network speed test tool it supports 4G speed tests. It can help to measure the speed between your device and a test server over the 4G networks.
Continuous internet speed test
RantCell pro app can measure the performance speed on 4G networks and the bandwidth of a 4G/4G LTE connection during an extended period by configuring it with a continuous internet speed test tool.
RantCell Pro app (which works as an FTP speed test tool) is designed in such a way as to transfer files back and forward between the computer and the server over the 4G network.
RantCell pro HTTP load testing methodology sends programmed simulated HTTP traffic to a server to measure the performance and action of the server.
Web application testing
RantCell App Pro works as an HTTP performance testing tool that measures the web application performance.
Video streaming
RantCell pro app supports the video streaming test feature that enables the measurement of the video quality of experience on mobile phones connected over 2G/3G/4G/5G/Wi-Fi networks. Measuring video streaming quality by calculating key performance indicators for video QoE parameters such as Launch Time, Load Time, Stalled Time, and Total Video Play Time is possible through RantCell pro app.
Iperf
RantCell app supports the Iperf feature that not only enable you to measure the maximum achievable bandwidth of the IP networks and tune protocol (TCP, UDP) parameters but also reports other parameters such as bandwidth, average jitter, and average loss datagram.
Indoor measurement solutions
The RantCell app is one of the cost-effective RF measurement tools that enable you to perform walk tests or to measure indoor mobile network user experience in small to large buildings' premises. RantCell is a cloud-based network monitoring and indoor testing/measurement tool that will help you to measure in-building mobile coverage or cellular solutions to improve user experience on the mobile network (QoE). Users with the help of the RantCell app can easily load floor plans (any shape of the building/ small to large) from their Android photo Gallery and overlay them on Google indoor map satellite view of the specified buildings. Floor plans and test reports are stored on the cloud and generate indoor PDF reports.
Why select RantCell?

RantCell can address several challenges, if anything gets experienced by telecom operators, in terms of 4G network testing. Some of them are as follows :
4G network testing through traditional methods or hardware is expensive.

4G and 4G LTE tests are crucial, as performing the test on a 4G network are time-consuming.

It requires high investment because field engineers or RF engineers need mass deployment of tools in the case of traditional network testing.
These above-mentioned challenges can be addressed by RantCell, which is an Android phone-compatible and app-based 4G/4G LTE testing solution. One of the reliable LTE testing tools that can help you conduct network tests (minimal manual efforts and automatic) on use cases given below :
4G/4G LTE testers

4G tester app

4G Wi-Fi tester

4G/4G LTE network tester

4G/4G LTE internet tester

4G RF testers

Drive test 4G LTE or 4G LTE drive test

4G Volte tester

4G test equipment
More about LTE

LTE was launched with the aim of not only providing a high data rate globally but also a packet-optimized system.

It (Long term evolution) ensures subscribers fast and smooth access to the mobile internet.

LTE supports peak data rates of more than 100 Mbps on the downlink, two transmit antennas at the base station, and two receive antennas at the User Equipment (UE) when using 20 MHz channel bandwidth.

LTE also supports peak data rates of more than 50 Mbps on the uplink and single transmit antennas at the UE and base station when using a 20 MHz channel bandwidth.

LTE generates eight to ten times the throughput on the uplink and ten to twelve times the throughput on the downlink relative to 3GPP Release 6.

LTE incorporates flexible duplex methods as the Frequency Division Duplex (FDD) and Time Division Duplex (TDD) allow LTE to accommodate various channel bandwidths in the available spectrum.