Drive Test Analysis for 4G LTE networks

Drive test mainly include identifying areas with no 4G connectivity, handover issues, call drops, low throughputs, no data etc. Modern RF-based 4G drive test tools are useful in determining such network issues and to enhance the network performance for their users.
User Experience of Network in specific geographical locations i.e. hotspots can be discovered with drive test analysis. Mobile network operators are carrying out network-based tests for measuring coverage and quality of the cellular network signal, mobile network latency, voice/data services, user QoE and evaluate the performance KPIs using cellular drive test equipment.
Classification of Drive Test in Telecom industry

Most of the MNOs depend on real-life user experience KPIs based on performed drive tests and benchmark user QoE on the mobile network. Nevertheless, traditional drive test involves huge investment in getting RF drive test tools and sometimes incapable of mass deployment to get large impression of mobile network around the coverage area.
RF drive testing can be classed into following use cases:
Single site verification (SSV) or Single Cell Function Test (SCFT)

Multiple site verification (MSV) or cluster drive test

Operator benchmarking drive test (Market level drive test)
Single Site Verification (SSV) or Single Cell Function Test (SCFT)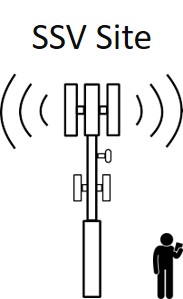 SSV drive test or SCFT drive test is all about performing 5G/4G/3G drive test analysis on a particular site (Example newly installed cell tower) and this is usually performed by drive testing or by walk testing around the site.
In site level testing, site is ready for performing SSV testing after completion of engineering, installation and integration and no active alarms are observed. The main aim of SSV testing is to validate functional performance of the site and identify/flag workmanship issues, product issues & provisioning issues before turning the site on for commercial users. Such kind of SSV testing for site entails stationery and mobility drive tests conducted using smartphone app-based solution. RantCell app is an Android based application that can perform SSV tests for a site and includes CSFB Calls, Volte Calls, Ping Test, FTP file Uploads and Downloads etc.
Single cell functionality test or single site verification is a static test which collects each sector information of the cell site in terms of coverage and quality parameters depend upon the technology like 3G, 4G LTE, 5G in the cellular mobile network. We, at RantCell, have always been at the forefront to assist our customers with their SSV network testing needs. Our users have been using this app to make their LTE drive test procedure easy and gain desired output.
Here is a video of SSV drive testing perform in the UK-
Multiple site verification (MSV) or Cluster drive test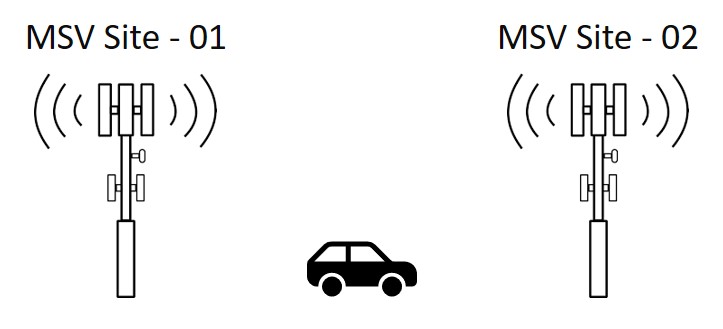 As the name suggests, network tests like drive test 3G, 4G LTE drive test, 5G drive test when performed on a group of cells is termed as a 'Cluster drive test' or 'MSV'.
Initially, in traditional drive test, network testers used to drive along target routes to collect information regarding coverage data through various iterations and field tests with cellular rf drive test equipment. But, as telecom businesses are expanding, it is cumbersome to refine expanded networks in terms of size, capacity, and number of users. With cluster drive test, operators can perform network tests by taking a group of cells and deploy it in a particular location and investigate the network accordingly.
Cluster drive test is executed when the network is in active mode (i.e. providing service to customers) and inspect the interference amid two cells and handover taking place or not. Network parameter details like Drive Route, Quality plots of RSRQ, SINR, PUSCH, Coverage plot, Download and Upload throughput is accumulated. Operators use this data to get output which is further utilized to optimize the mobile network and deliver efficient service to users. RantCell's active RF tester app for 5G, 4G, 3G, 2G drive testing is compatible and deployed on a variety of available Android smart phones for cluster (mass) drive testing, producing crowd sourced QoE data.
Multiple site verification or 4G LTE drive test must have measurements of radio parameters such as RSRP, RSRQ, SINR, PCI, EARFCN, and WCDMA drive test parameters like RSCP, RSSI, ECNO, PSC, UARFCN etc. atleast at basic level to identify primary network issues. Implementation of cell lock / band lock feature allows RF engineers to measure all these parameters on selected bands as per their requirements.
RantCell app can help you perform cluster pre and post drive tests on the basis of 2G 3G 4G drive test parameters under voice and data services. Using this app, users can conduct drive test for various tests like Ping test, Call test, Speed test, HTTP test, SMS test and Stream test and analyse the drive data for QoE monitoring. The app enables users to generate cluster drive-based reports on a daily basis or hourly basis as per the client requirement for QoE monitoring. Conducting drive test can resolve ARPU customer complaints based on network usage and cost optimisation techniques.
Operator benchmarking drive test (Market level drive test)

In this test, comparison is done in terms of number of call drops, data throughputs, and other key KPIs on 4G / 5G networks between various network operators and analyse who is providing better user experience. Usually market level drive testing is performed by operators themselves/ independent bodies/ telecom regulators. For example, telecom regulators from various countries constantly perform market level drive test to identify underperforming operators whose user experience KPIs are not meeting regulatory requirements.
'Market level drive test' analysis is carried out based on a particular market or an entire geographical area with the use of 5G, 3G, CDMA, LTE drive test tools. Operators conduct drive testing on an area to analyse user experience with respect to other cellular service providers. Market level drive testing can identify their strengths, example high data throughput compared to competitors and this provides them an opportunity to upsell their services by advertisement campaigns.
Drive test engineers / RAN testing engineers can perform drive test by locking on to a specific cell, for instance, 4G LTE cell in their test location and select the desired bandwidth such as LTE 40, LTE 25, and so on. Here is the procedure to unlock cell lock / band lock feature on your Android smartphone and test with RantCell solution.
RantCell has inbuilt a network comparison feature wherein users can compare up to five different network operators and generate reports automatically. Telecom operators or regulators can use these reports to quickly determine high performing and underperforming networks. Click here to download a sample drive test comparison report.
In recent times, 5G deployment across the globe has increased the demand for 5G drive test parameters such as 4x4 mimo, massive mimo etc and now 5G NR to a must-have feature on a RF drive test tool.
What are the outcomes of RF Drive test analysis?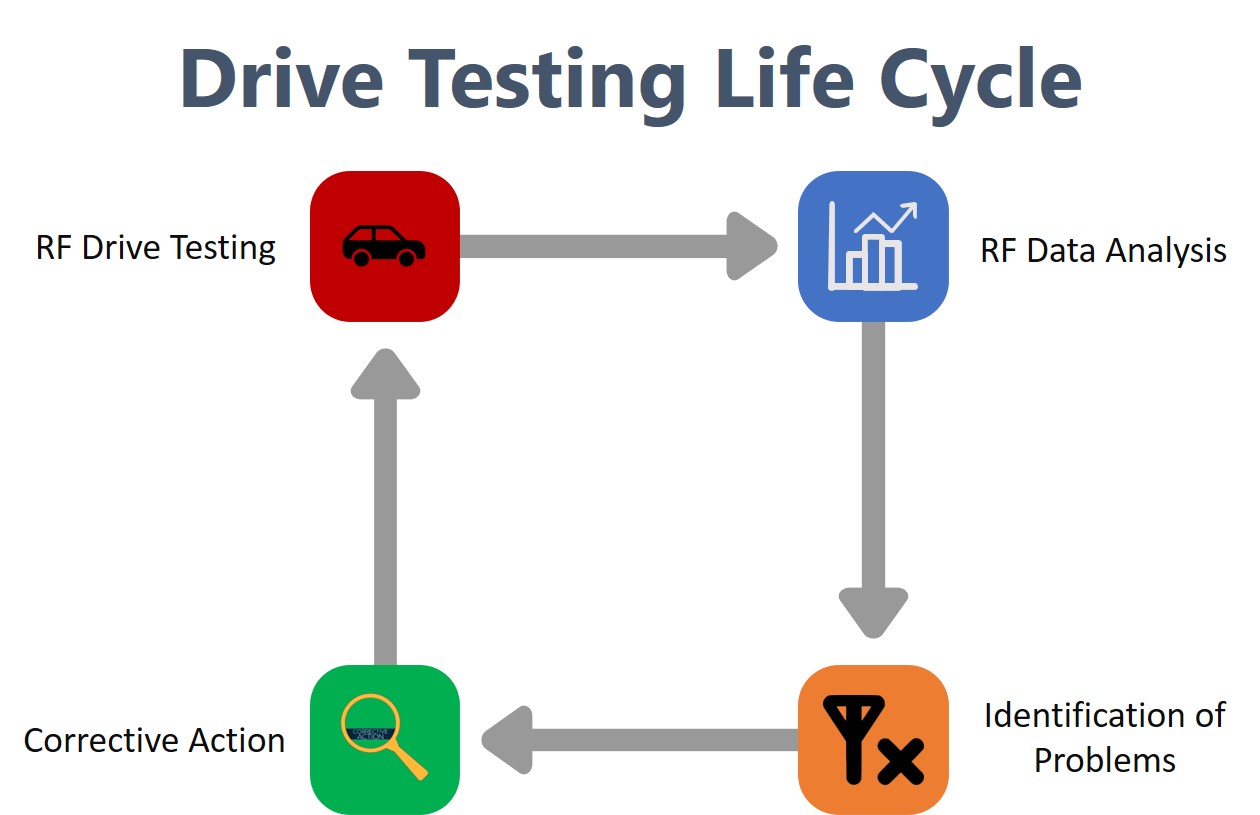 Wireless network drive testing analysis provides a clear insight into the mobile network coverage and other wireless technologies like 5G. By analysing 5G, 4G, 3G, GSM drive test logs, telcos are able to identify some of the issues as mentioned below:
Cell overshooting which is a result of improper network design when planning networks

Black spots i.e. non-coverage spots

Interference areas which are usually highly populated and result in call drops

Sectors receiving poor signal quality (slow data speed, dropped calls, etc.)

Handover failures between cell sites
Following corrective actions can be taken by telcos to refine network performance and provide better user experience:
Parameter optimisation on cell towers

Addition/deletion of neighbour cells

Reducing the power levels of sectors to avoid cell overshooting

Redesigning of radio planning
Telcos undertake these network optimisation measures in order to:
Improve coverage

Reduce call drops in a network

Higher data throughputs for the users

Reduced handover failures

Competitive edge in the market

Reduced customer complaints and churn
Must-have features of RF drive test tool

Drive test solution must support capture of GPS information along the drive route.

Must support 2G, 3G, 4G LTE and 5G NR measurements.

Data testing such as HTTP, latency and FTP speed tests.

Voice and SMS testing must be supported.

Enabled with Cell Lock / Band Lock feature.

Video streaming testing support on mobile network will be an added advantage.

Frequency scanning function for all RAN technology.

Layer 3 and Layer 2 messaging capture capabilities if RF deep diagnosis information is required.

Script based call and data session manual and automatic should be available.

RF Tool must be portable, measurement software on smart phone will ideal.

Real-time upload of test data to post processing tool.

Post processing tool must support analysis of data on map-based view.

Post Processing tool should provide graphical and tabular reports for various features of GSM / UMTS/LTE related performance of the network.

Post processing software tool must work on normal windows-based PC or web-based interface will be ideal.

System must support export of excel, maps or PDF based reports.

Any 5G MIMO measurements will be ideal to verify during SSV stage.
Types of RF drive test tools currently available in market

RF Scanners – A device used to measure radio frequency (RF) of multiple operators concurrently.
RF layer 2 and RRC layer 3 capable tools – These are required for deep analysis on 4G and 5G networks and usually expensive.
App based RF measurement tools – App based RF tools are compatible on Android smartphones and can be used to conduct 3G, 4G, 5G drive tests. Mass scale deployment of such apps is possible to low cost and compatibility on Android phones. There are solutions in market which has big data capabilities to analyse huge geographical test data received from app-based RF tools.
Voice quality measurement - Such tools are used for assessing voice quality (MOS, POLQA), echo minimization, reduction in noise while permitting easy speaker recognition.
Load Generator – Load generators are deployed to generate high voice and data traffic into a network and test its ability to handle high level congestion/traffic in a network.
Traditional drive testing tools have been expensive and time consuming to perform RCA (Root Cause Analysis). Hence, telecom industry needs cost-effective solutions like App based drive testing to meet its mobile network testing objectives and fulfill users' expectations. We, at RantCell, have introduced Android based smartphone app to assist testers monitor signaling traffic at control points and then centrally examine to get valuable insights and refine overall network health. To perform such action, telecom operators need to undergo drive test analysis as per the specific network requirements. The app can easily process thousands of data to conduct mass drive testing.