An introduction to 4G/5G Private networks

Many industries like manufacturing, transportation sector – airports, oil & gas, mining are moving towards building their own private networks. Every enterprise from large sized to small and medium businesses (SMBs) to facilities like banking institutions, manufacturing, automotive, concert halls, universities, hotels, shopping malls and many more has its own networking demands to be served in a highly secured environment. With the inception of private cellular networks like LTE and 5G, enterprises can have their own dedicated private network around their premises that will impart excellent unified Internet connectivity, optimized network services at a faster speed and low latency (5G applications), safe communication within a specific area/region. High level bandwidth provided by 5G technology with private networks is gaining huge traction supporting many use cases such as industry automation, Industrial Internet of Things (IIoT), AR/VR and many more.
Types of Private Networks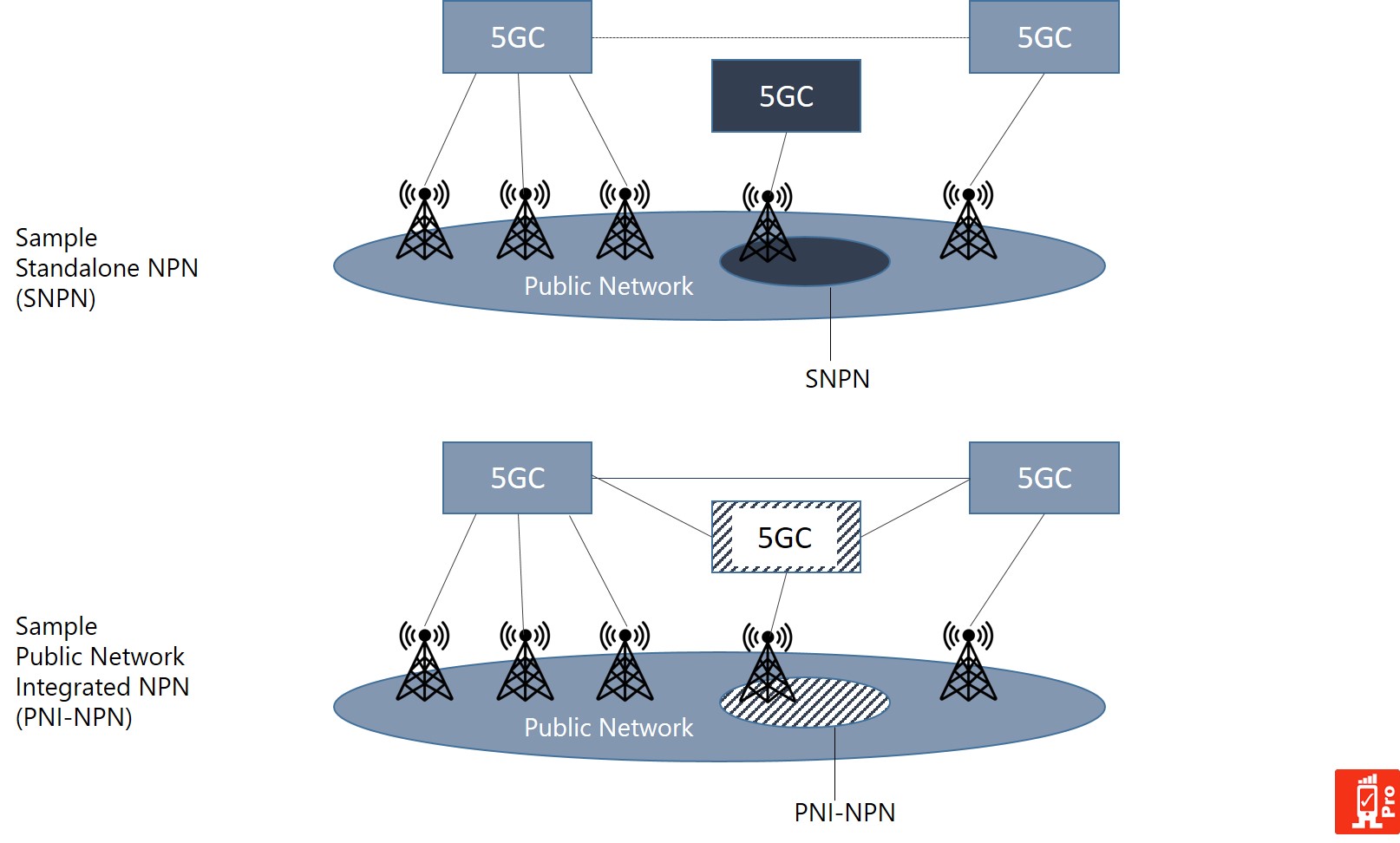 Standalone Non-Public Networks (SNPN) - A type of private LTE network/private 5G network isolated from 4G/5G public networks and is not available for access by any civilian. Such networks comprise of their own radio and core networks on a selected spectrum, policies to manage users and devices with personalized network services. NPN can have a unique identifier namely Network Identifier (NID) which is independent or combined with PLMN ID, having a dedicated Core and RAN with all elements like RF, units like CU/DU/5GC. In this regard, unlicensed spectrum, for instance CBRS in the GAA mode can be used with restrictions in access in a similar topology.

Public network integrated NPN (PNI-NPN) - PNI-NPN is the network that can be accessed by general public. This type of Non-Public Networks (NPN) is deployed with the support of Public Land Mobile Network (PLMN) where the PLMN ID and CAG ID identifies the network (selection and reselection) and Closed Access Group (CAG) cells (selection, reselection and access control) respectively. In such scenarios, a private network can collaborate with a public macro network built by MNO where they centrally manage access credentials for the former network permitting seamless communication between these two networks.
How RantCell platform can support some of the pain points of maintenance and testing of private 5G network ?

For large enterprises, for example, Oil and Gas or manufacturing will have 4G/5G private networks in multiple locations worldwide. Thus, measuring network coverage and performance in every location using traditional tools is challenging due to logistical challenges and associated costs. To address this, RantCell solution can be mass deployed on readily available Android phones in local market which are more efficient and cost effective. All measured QoE data is aggregated into single RantCell cloud for analysis. Further, it has powerful post analysis online web-based dashboard and reporting capabilities.




Possible lack of daily performance data of private 5G network and reliance on main CSPs for performance data report specifically when PNI-NPN networks configuration is done. RantCell enables private 5G network owners' real time concurrent monitoring of QoE (ex-Latency, data speeds, voice KPI), performance of various locations worldwide, get alarm notification when performance degrades below threshold, example 5G slice assurance (Each network slice is an isolated end-to-end network designed to fulfil different kinds of requirements for a specific application such as – traffic capacity and coverage area requirements per region, point-to-point latency, UE speed and many more).

Dashboard view - UE Speed Monitoring with RantCell




Traditional RF measurement tools tend to generate large amounts of data with deep information about RF conditions where in enterprises need to spend huge of computing and skilled resources which are time consuming just to get performance reports. RantCell app captures key measurements and KPIs which are just enough for enterprises to evaluate the performance of network, does not require any specialized skills for data collection. RantCell Crowdmetrix can store thousands square kms of measured data (ex: coverage along railway tracks) and users can access data by simply entering address on web-based dashboard.




4G/5G private network indoor measurement often leads to additional licensing in costs in traditional tools and complex. RantCell pro app has inbuilt functionality to upload small to large floor plans (ex: multi story building, factory floor plan etc) in JPG format. Once loaded on RantCell cloud, this is available for any tester to load floor plan from cloud and perform indoor network survey. With RantCell dedicated solution, there is no limit to number of floor plans that can be uploaded and number of locations measured worldwide. Private 5G network owners can now have indoor 5G/4G coverage and QoE of every office building at their fingertips.

Walk testing measurement on 4G private network premises:



What traditional tools cannot offer?

Power of crowd sourcing, RantCell crowdmetrix platform can continuously measure QoE of network 24/7 of all enterprise devices (Android) and CPEs (contact for more information). Wherever user's move, network gets measured and 5G/4G private network users can get higher foot print of network. Example, RantCell lite app deployed on delivery truck, private goods trains, users handheld devices etc. measure 4G/5G private network. Solution can divide huge geographical areas into clusters and generate reports in a matter of seconds.
RSRP coverage view: Get visibility on a large geographical network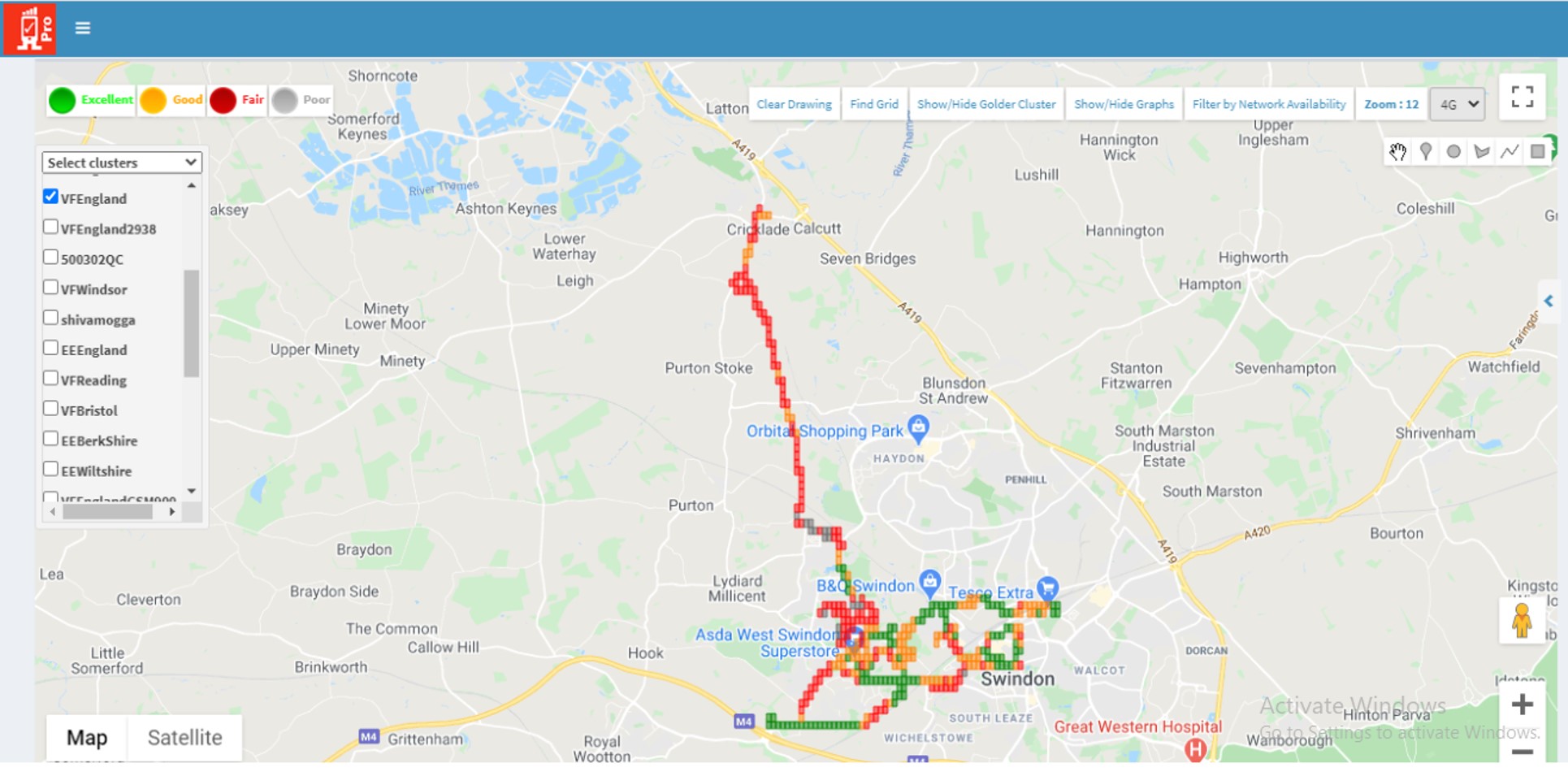 What is CBRS? How is it beneficial for commercial CBRS private LTE/5G networks?

A new transmission band is made public for facilitating such wireless services i.e., 3.5 GHz CBRS band (3550 MHz to 3700 MHz) known as Citizens Broadband Radio Service (CBRS) to serve better network connectivity. Now, moving forward with creation of private LTE/5G networks, band 48 CBRS, a frequency band of 3.5 GHz from the total 150 MHz wide broadcast band is being used for private and geographically limited deployments in which RantCell supports CBRS testing for enterprises to build these private networks. Development of such unparalleled CBRS band can be fruitful in many ways as carriers continue to deploy wireless networks like 5G to a wider population across the globe.
List of devices supported by RantCell on CBRS:

Samsung Galaxy note 10+ sm-n975u (CBRS)

Samsung Galaxy Xcover pro sm-g715u1 (CBRS)

Samsung Galaxy note 10+ sm-n975u1 (CBRS)

Samsung Galaxy note 10+ sm-n970u1 (CBRS)

Samsung Galaxy S20 Ultra 5G + Android 10 (SM-G988U – CBRS)

Samsung Galaxy S20 5G + Android 10 (SM-G981U – CBRS)

Samsung Galaxy S20+ 5G + Android 10 (SM-G986U – CBRS)

Samsung Galaxy S10 5G + Android 10 (SM-G977U – CBRS)

Samsung Galaxy Note 10+ 5G + Android 10 (SM-N971U – CBRS)