What is DevOps

DevOps meaning is a fusion of two different words "development" and "operations" blended into one word. A practice implemented in software engineering that unifies software development (Dev) and software operations (Ops). The prime characteristic of such a movement known as DevOps is to advocate automation and monitoring at every phase of software creation, from integration, testing, releasing to deployment and management of infrastructure. It aims to shorten development cycles, increase the frequency of deployment, enhance dependable releases in accordance with business objectives and has been quite popular in IT industry since past few years. However, recently operators are showing keen interest in this technology to achieve greater network and operational efficiencies by mixing software development and IT systems across their telecom work environment. The market size for DevOps globally is projected to reach $14,969.6 mn by 2026, growing at a CAGR of 19.1% during 2019-2026.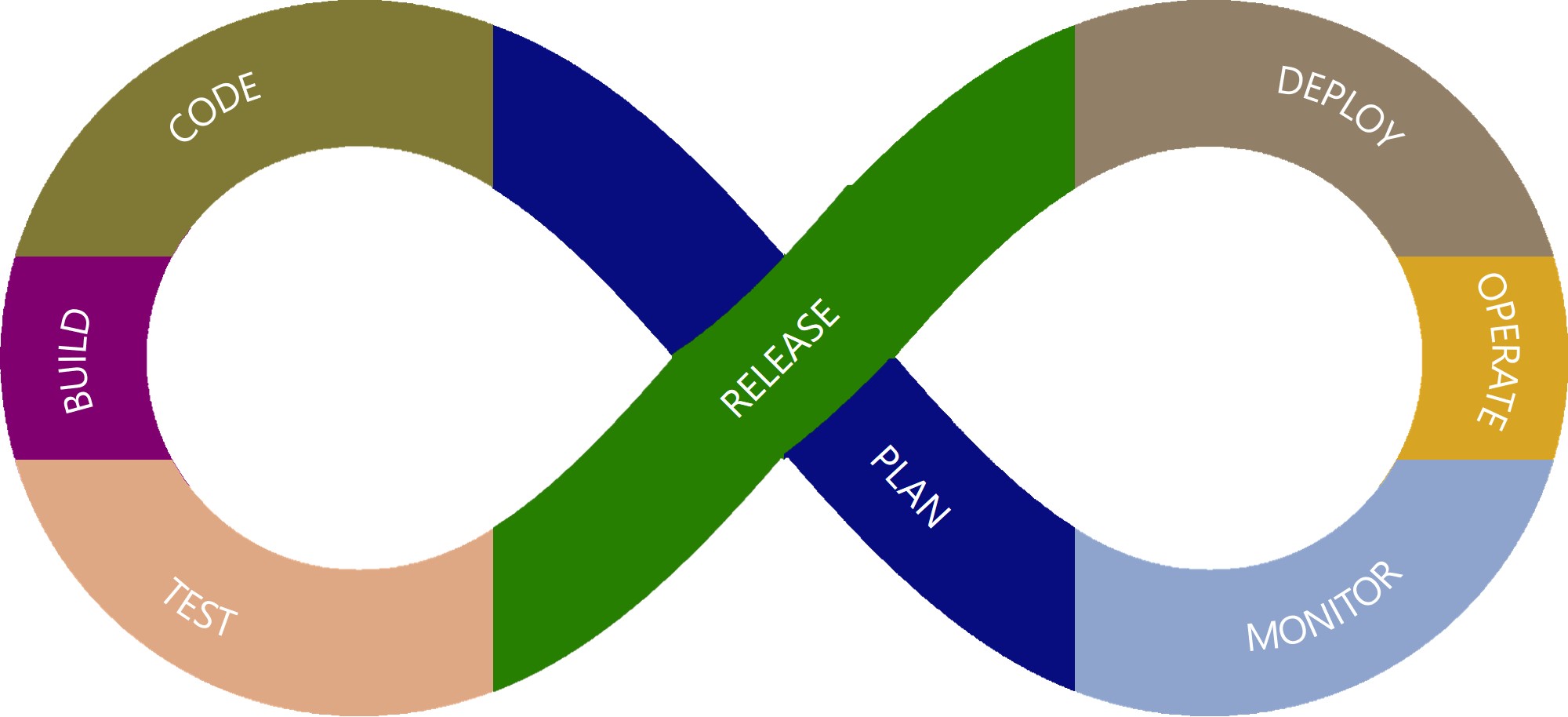 Key challenges in Telecom

Release cycle is very long due to continuous deployment of networks in different regions which requires continuous network testing prior making available to users.

No support for executing multiple test scenarios with minimal downtime as engineers have to visit cell tower sites, perform tests which are quite time-consuming.

Inability to publish changes in product data in various downstream systems. Performing regression testing every time whenever there is a RF software change/upgradation is a herculean task.

Low-security with scanning executed manually and no governance to force scan prior release. Such application security makes it very tough to establish accountability for every network components embedded in a network.
Why Devops is adopted in the telecom industry?

It is quite exciting to know that the adoption rate of DevOps in telecom industry is higher than what is believed making them the leaders in the business ecosystem. As per some facts, a total of 88% of telecoms either are already using it or intend to, compared to an aggregate of 66%. Being one of the most competitive industries puts immense pressure on them to deliver new products and services rigorously. With the implementation of DevOps, they can gain benefits in terms of increased velocity in delivery, which is the most obvious reason for telecoms to move ahead aggressively with this new-age practice.
Rising demand for DevOps in Telecom industry

Implementation of DevOps in telecom industry is nowadays becoming common as a telco can achieve the level of success depending on the quality of tools applied. It gives a boost to sales pitches on 5G DevOps-focused services as new offerings of products to its prospective and current clientele. Keeping in mind, organizational variables like leadership, support, culture will still be a crucial part as, deploying a wrong DevOps tool could significantly harm workflows and delay in projects for both the parties i.e. telcos and their clients.
Telcos improve Time-to-market and customer satisfaction with DevOps in the 5G era

The deployment of 5G brings a lot of operational challenges and opportunities to reduce costs. Enforcement of DevOps can address these complexities with automation enhancements to software delivery and improvisation of time-to-market and customer satisfaction for telcos in various ways:
Proper 5G DevOps tools and managed platform can build automation and ecosystem to bolster telco 5G networks.

Provision of cost savings and bring innovation with automated QA or test strategies deployed via 5G DevOps practices.

Enhanced collaboration between Communication Service Providers (CSP) and vendors due to the adoption of DevOps culture.

Definition and validation of new services can enable higher value capture using DevOps making significant investments required in deploying 5G networks.
Business Benefits of 5G DevOps in Telecom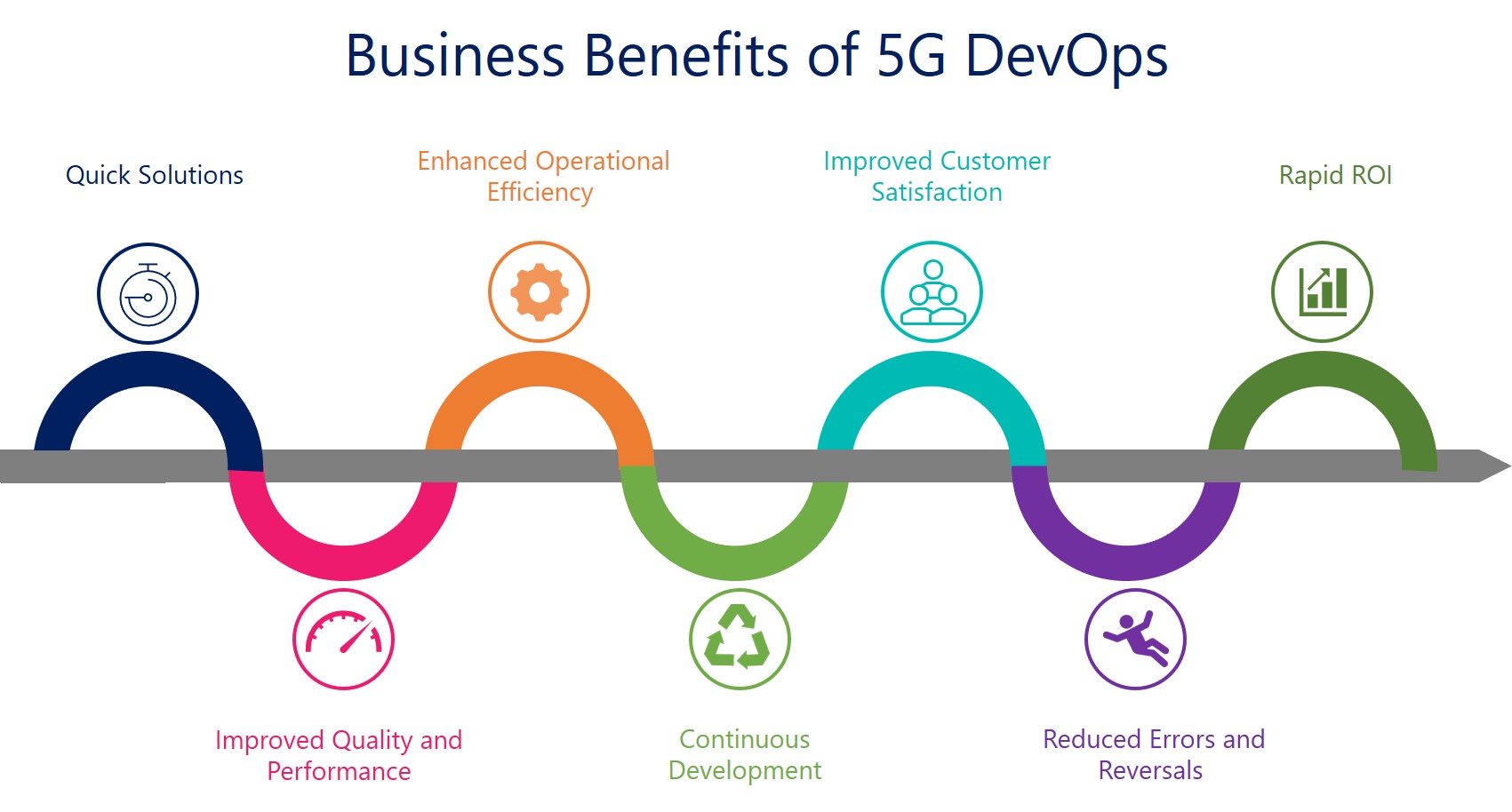 Setup time for test environment is reduced.

Improved agility and less time-to-market by curbing release cycle.

Time required for production release certificate is reduced.

Curbs time required for automated data deployment process.

Streamlining test cycles and automate the provisioning of environment with one click deployment.

Operating environments are more stable.

Get more time to innovate rather than spending time on maintenance and fixing issues

Automation leading to enhanced security scan.
Right set of DevOps tools for telecom industry

Workflow and testing automation tools

5G DevOps is based on automation that enables personnel with fast delivery speeds to take on new workloads and objectives. It should penetrate into the whole DevOps setup, that supports integration, testing and deployment. Further, automated scripts accelerate the process of quality assurance testing as it enables engineers to conduct intensive testing and thoroughly review code assessing the development of software at every development stage.

Configuration Management

Network performance can severely be impacted if every component of network system is not configured properly. It can be said that telecom IT surroundings are intricated. Deploying 5G DevOps process into these telecom operations can only be beneficial in presence of configuration management solutions to ensure applications are appropriately configured for their environments. Such tools assist engineers in generating program-based configuration files, which can then be implemented either at runtime or deployment to match the particular conditions.

Monitoring of network and health check

New opportunities are opened up with 5G DevOps so as to release software quickly to users, accumulate feedback and implement it to create better versions/applications. It is very critical for telcos to check for presence of major bug/error in a build that can be tested and improved prior rollout to users. This makes network health checkup an important task for engineers and the role for network and health checkup tools to assess and make improvements as and when required to give users better network services.
Creating Smarter and Agile Networks

5G is basically developed around three principles namely, SDN, NFV and VNF in which telecom operators have to rent public cloud computing resources to connect the main network servers in the cloud with edge DevOps where edge computing nodes are installed wherever needed. This is where DevOps acts as a key technology for creating smart and agile networks.
Implementation of virtual network functions and continuous delivery of new services are considered to be routine tasks for developers in NFV environment. Thus, operations is challenged to assist in making changes while preserving network stability. Incorporating 5G DevOps approach, telecom operators can closely collaborate with these two disparate groups in a more synchronized way. Further in real deployments of networks like 5G, DevOps structure coupled with measurable KPIs are regarded as critically important.
Implementation of 5G DevOps with Cloud-native approach

5G networks are built with network functions represented in software as Virtual Network Functions (VNFs) and regarded as a core element in NFV surroundings. Different vendors develop different VNFs that are accumulated together to deliver services. However, there are several complexities attached due to development of VNFs by multivendor as each VNF has its own operational and performance issues comprising manual integration in infrastructure of NFV, lack of multitenancy and interoperability, utilization of NFV hardware resources. In order to deploy 5G networks, automation is critical to configure and manage each VNF.
With the use of software in telecommunications space, cloud-native becomes a crucial component of VNFs. Cloud-native approach comprising containerization, dynamic orchestration and microservices-based architecture enables service providers to apply DevOps (continuous deployment and integration) procedures to automate creating, validating and deploying of VNFs into NFV surroundings.
5G networks implemented with 5G DevOps approach brings several benefits for entire network operations. It enables automation for deployment and management of service chains and 5G network slices. Since an entirely automated system is required for 5G network operations, it may result increase in operational efficiency and reduction in human errors, thereby saving OPEX and decreasing expensive downtime.
Conclusion

Telcos are still in the process of adopting Devops, but the ones who are getting familiar with this new-age technology can surely be true winners in the telecom space for a long-term. It can be a major asset for telecom industry as both initiative and new service, but they require to lay the foundation as a pilot task to bolster such projects. DevOps methods are needed to lead tighter integration of IT operations for seamless virtualized telco services such as operationalizing NFV deployment in 5G networks. Implementation of 5G DevOps' robust approach can bring agility to initiation of new services by SDN and NFV, VNF technologies in that can address installation, configuration and provisioning of network infrastructure facilitating continuous integration and deployment in telecommunications.