Drones in Telecom: Can drones perform mobile network testing?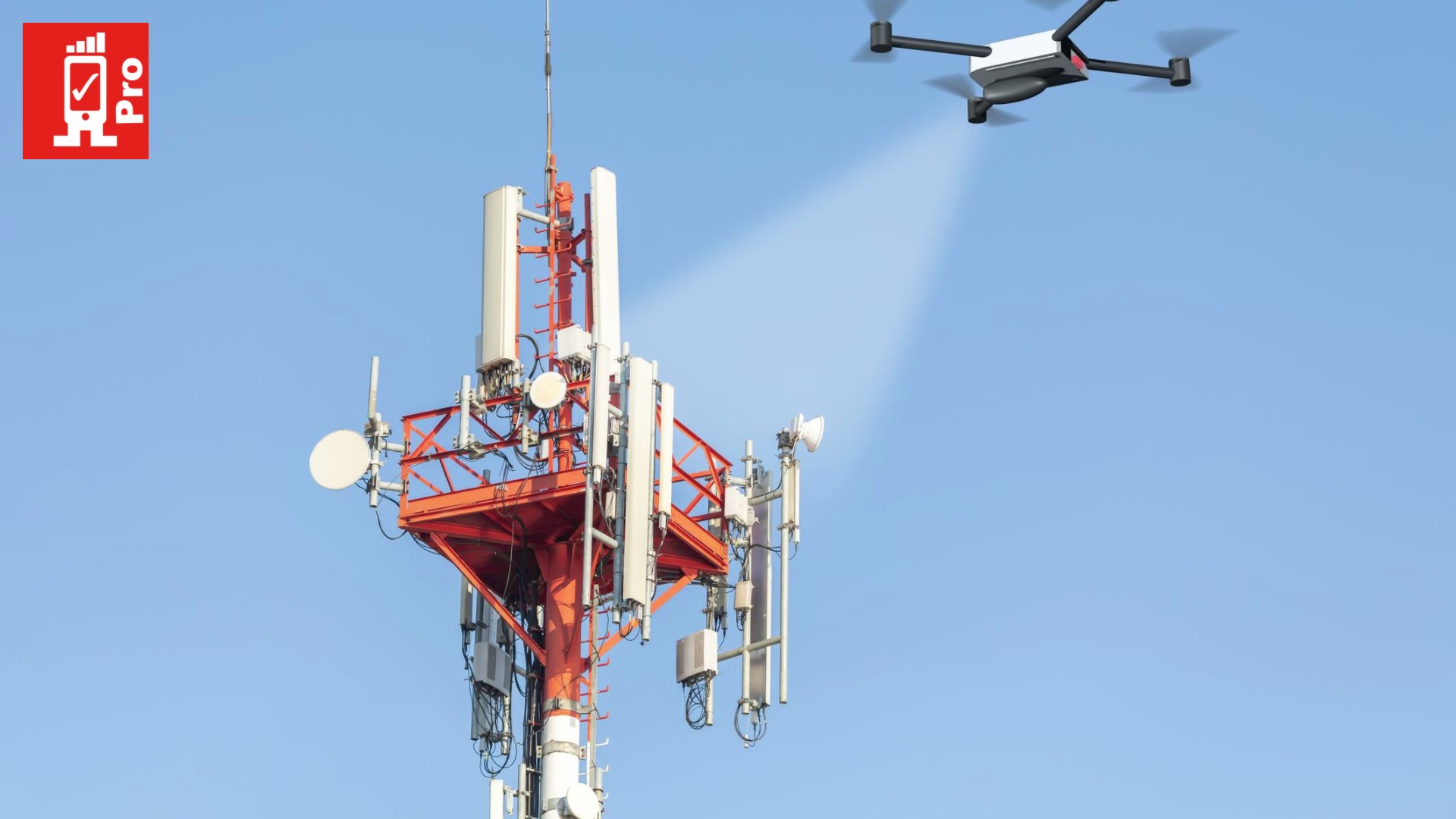 We have all heard about the package delivery drones being used to pick up from the warehouse and delivering it at the doorstep. Mostly drones got traction during COVID-19 last year to combat the deadly disease and assure contactless transportation of medical supplies or food, aerial spraying of public areas to disinfect contaminated regions, picking up lab samples. The use cases for 5G and drones are continuously expanding and providing benefits to every sector. Recently, telecom sector is uniquely positioning themselves with a revolutionary act of utilising the Unmanned Aerial Vehicle (UAV) in the ecosystem and transforming their operations to gain efficiency.
Challenges that come along with autonomous drones

One of the challenges in drones that operators come across is remotely controlling the drone through a drone application. Operators need to pre-define flight patterns where the excellent network coverage is available to avoid loss of network connectivity. So, mobile network connectivity related information such as bandwidth, radio signal strength etc. is required from cellular networks to build a coverage map for the network. The map will highlight no-fly zones for drones which means the coverage is low in that particular path and should be avoided for loss of connectivity. It is crucial to amend some network programmability so that the effectiveness of drones remain intact and deliver sufficient results as required.
Other challenges include safety challenges on both areas – ground and air, i.e., prevention of drones from falling down to earth, injuring people and/or damaging property and restricting mid-air collisions. Though current regulations are limiting operations from low-altitude (below 400ft or 120m) to the VLOS (Visual Line of Sight) of a human pilot controlling the drone. Nevertheless, many enterprises are exploring the potential of drones that run autonomously – beyond VLOS and human control. Drones used for delivery of parcels, medical supplies, remote and large-scale infrastructure monitoring and surveillance are some of the examples of such applications. Autonomous drones have also become popular for applications in precision monitoring and mapping.
Drone traffic management architecture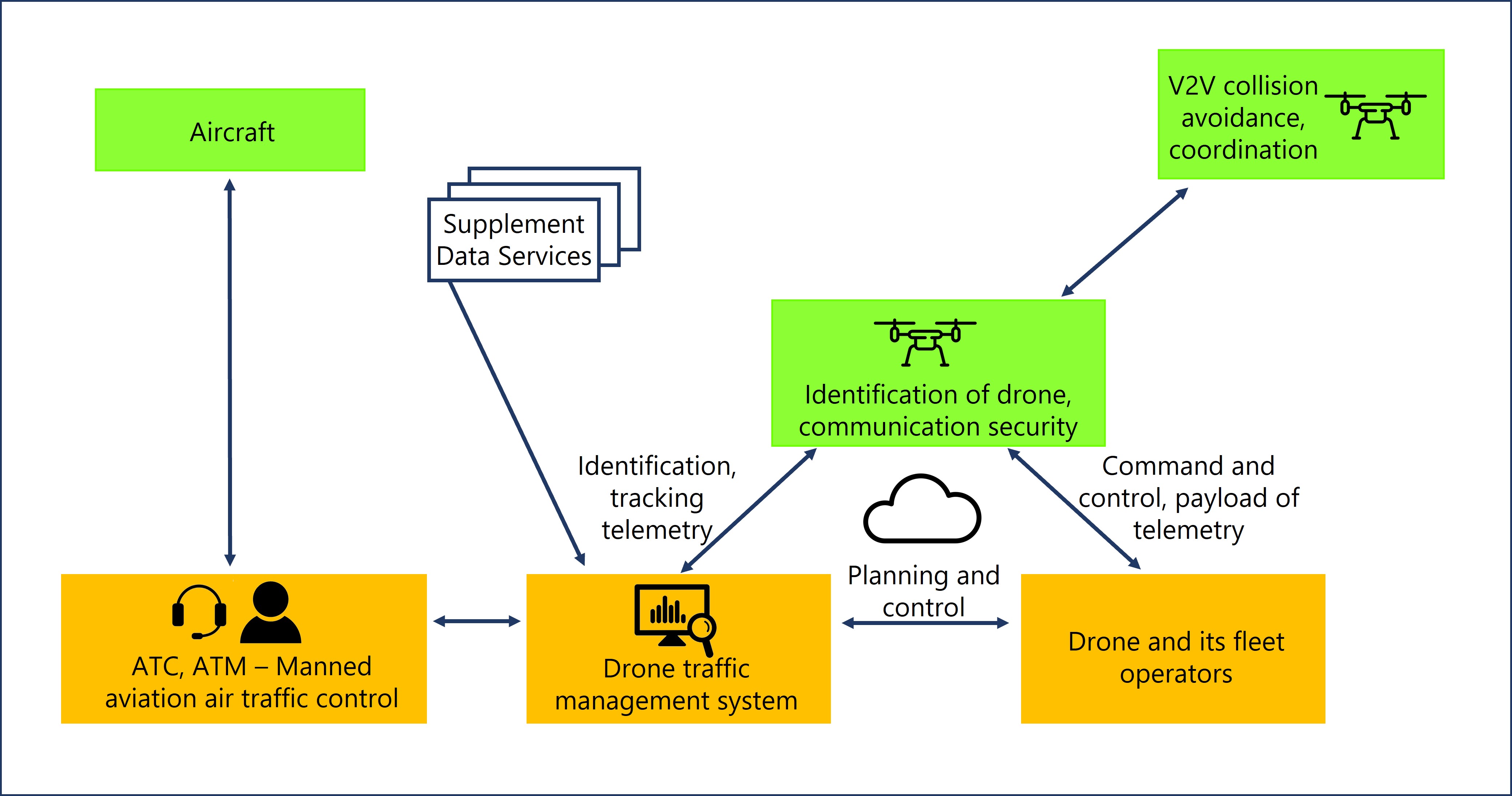 The drone traffic management architecture is something being imagined as shown in the above image. The management approves drone flights and avoids from collision by deconflicting drone flights. Additionally, it is involved in coordinating with manned aviation and associated air control systems. It also ensures compliance with restrictions in low-altitude airspace regions. Weather services are supplemented to the drone traffic management system to assist in decision making. Drone operators will seek for flight approval as they connect to the traffic management system and give status updates on drone flights on regular intervals. This is basically done by the telemetry reports provided and have up-to-date airspace status. Further, network information based on various KPIs such as throughput, latency, etc. parameters like RSRP, SiNR, etc. are captured in real-time to make significant changes in network to achieve desired performance.
Wireless drone communication options

Drones are wireless and depend on wireless Internet connectivity to assist in their communication needs. Communication is also required for supporting authentication and authorisation. Drones need communications for command and control to operate. Payload transmission supports drones for high-bandwidth video streaming for collecting information. To avoid collision, drones may require Vehicle-to-Vehicle (V2V) technology to communicate with nearby drones in the flight paths.
Such wireless communications can be enabled over licensed and unlicensed spectrum. The latter one does not have exclusive access to channels since it is a shared spectrum. With light regulations involved to facilitate innovation, unlicensed spectrum is more prone to interference. Thus, licensed spectrum is the preferred one for creating communication options for drones in three ways:
Satellite technology over satellite spectrum – Provides good network coverage but have high latency, low speed and requires huge amount of cost.

Deployment of a dedicated drone terrestrial network over licensed spectrum – Increased costs, requires a lot of time to build a system with adequate drone coverage area.

Utilising current terrestrial mobile network over licensed mobile spectrum – This is the ideal one with low latency, high speed and comes at a low cost than the other two. Drones can easily communicate to provide testing results on such mobile networks which are secured and robust.
Different drone use cases deployed in telecom industry
Drone mounted with network measurement solutions

Operators usually test network Quality of Service (QoS) and Quality of Experience (QoE) with RF drive test tools that includes RF scanners and specialised devices (smartphones). With drones, operators are mounting these scanners and Android devices on them to conduct flight tests over targeted 'drone estates' and assess network quality.



Assess network coverage at various altitudes during flight tests

Operators are performing 5G trials to test network coverage at different altitudes. But what does 5G mean for drones or 4G mean for drones? It is nothing but a mobile network where the coverage needs to be assessed as they take their test flights along multiple routes. On top of that, testing devices are mounted on drones for determining the 4G/5G coverage of its flight across a predetermined path by assessing and plotting network coverage parameters like Signal-to-Interference-plus-Noise Ratio (SINR) and Reference Signal Received Power (RSRP). Qualcomm recently executed LTE test with drones at an altitude and received strong signal strengths despite having downtilted antennas. Due to the conditions of free space propagation, drones showed significantly stronger than for mobile smartphones on the ground.

Signal Strengths at an altitude


Operators to enhance network coverage and latency with drones

Operators are also using drones 5G network and 4G network to identify problems at multiple altitude range and make immediate amendments to improve network coverage and speed. Having measurement data sets for 4G LTE/5G network KPIs like latency, data throughputs, telcos can get better understanding of network capabilities and upgrade it to meet desired requirements.
Drones are useful in many ways:

Ability to conduct network testing on a wider portion of area where human reach is impossible.

Safer way of testing networks for both indoor and outdoor regions.

No human exposure to hazardous situations such as vulnerable to dangerous gases, falling on earth, or getting trapped.

Drones are enabled to capture real-time network information so that the engineers can make improvements for providing better Quality of Experience (QoE) to users.

Cell tower/base stations inspections, radio planning can be done with drones.

Effective and efficient network testing for mobile operators, thereby enhancing operational efficiency.

Curbs mobile testing insurance costs provided to human staff as they are no longer involved in testing of networks who may be susceptible to health risks.
4G/5G network inspection with telecom drones

Ericsson and Vodafone partnered to use drones and data from mobile networks to produce network coverage maps and assess areas with good signals. It allows the operators to optimise the mobile network connection.

Three companies namely UPS Flight Forward, Skyward and Verizon teamed up to examine the 4G network in delivery drones. The project commenced in 2020 and aimed at assessing reliability and network performance from an altitude.

AT&T provided its commercially available spectrum to Qualcomm to test drones on 4G LTE networks used for commercial purpose. Multiple test cases were executed to measure key KPIs such as coverage, signal strength, throughput, latency and mobility.

'Intelligent Site Engineering' is a service provided by Ericsson. TDC NET partnered with the company to monitor 5G wireless network using drones, AI/ML and 3D modeling technologies. 3D models i.e., 'digital twins' were created using drones and other technologies to perform 5G network testing and get measurement reports for the targeted site. Consequently, TDC NET were able to save costs as one staff engineer was able to perform the whole examination process in one hour without further requiring extra manpower and cumbersome equipment. They performed network testing with this service in 200 sites (approx.) efficiently.

SK Telecom shared its 5G trial network with a drone manufacturing firm named Percepto. The partnership is for exploring the potential of both the companies' significant assets i.e., 5G trial network and autonomous drones respectively.
Conclusion

Network deployments for 5G networks are expanding and so is the application of drones to conduct network testing in critical conditions and areas where human reach is limited. Operators are developing architecture for 5G for drones to communicate with networks and give real-time network measurements to assess abnormality in quality and improve it further. With so many benefits of using drones in the telecommunication space, telecom players are exploring new models to deploy drones and test networks to extract more significant value from it. As 5G network capabilities will be significantly improved, it will give rise to more large-scale drone deployments in every other industry with effective and efficient mobile connectivity.