What is Dynamic Spectrum Sharing (DSS)?

Dynamic Spectrum Sharing (DSS) is an exemplary achievement in the technological field. It is a new antenna technology which is going to enable use of LTE and 5G simultaneously in the same frequency band. The technology helps in determining the demand for 4G LTE and 5G in real-time. The available bandwidth of the network is divided into independent parts and dynamically assigns respective mobile communications standard it can be ideally used for available frequencies.
Advantages of dynamic spectrum sharing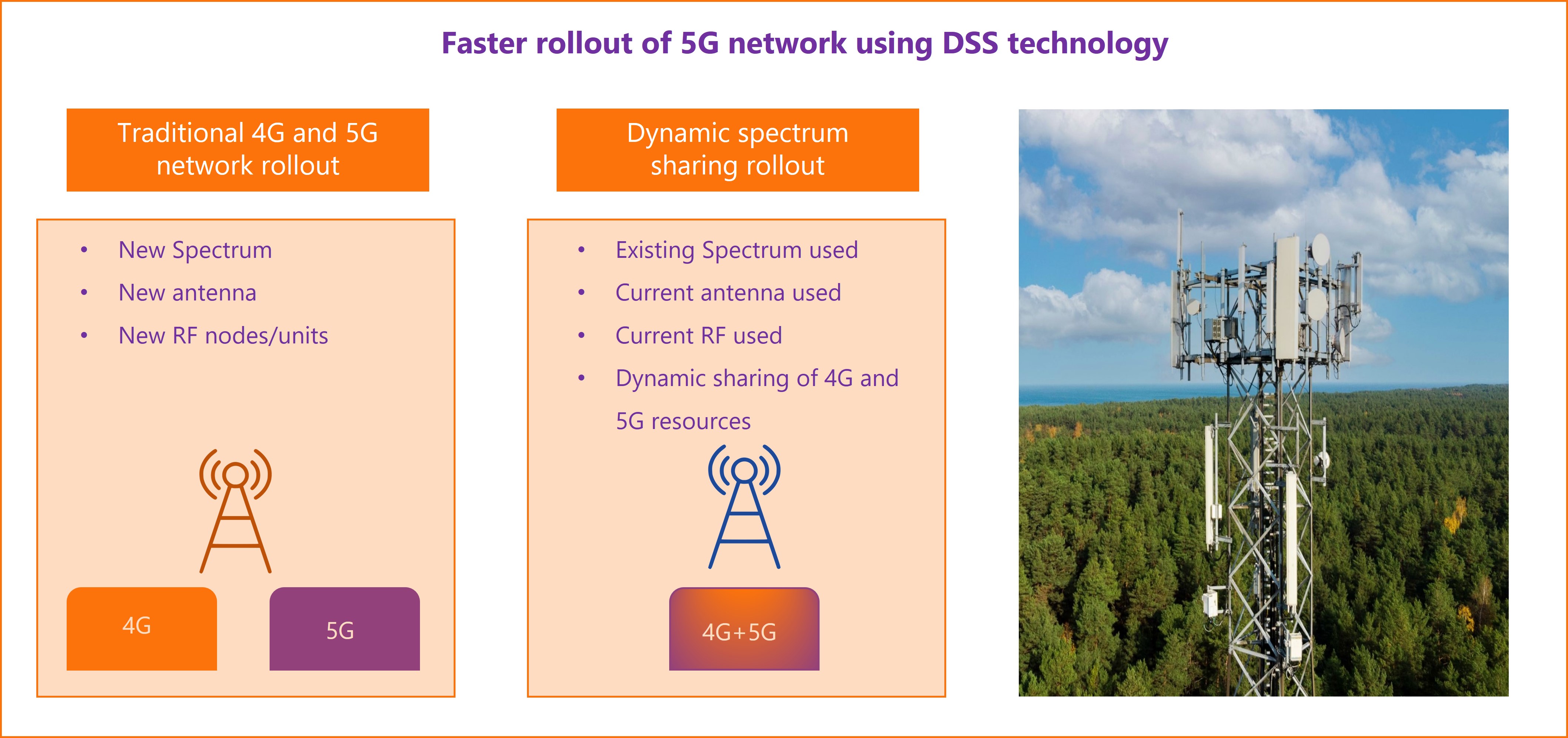 Many are wondering how dynamic spectrum sharing works. DSS technology dynamically allocates time-frequency assets between 4G and 5G networks as per their relevant traffic demands, thus, accommodating users of both networks and optimising resource utilisation.

5G early development stage uses a specific number of resources for its users with the application of DSS. The remaining resources are retained for 4G users. As the demand for 5G will continue to grow, DSS can assign more resources to 5G related services.

Implementation of DSS allows 5G to use the same frequency bands as of 4G, discarding the need for allocation of new 5G spectrum for 5G expansion.
Impact of DSS on 4G LTE and 5G NR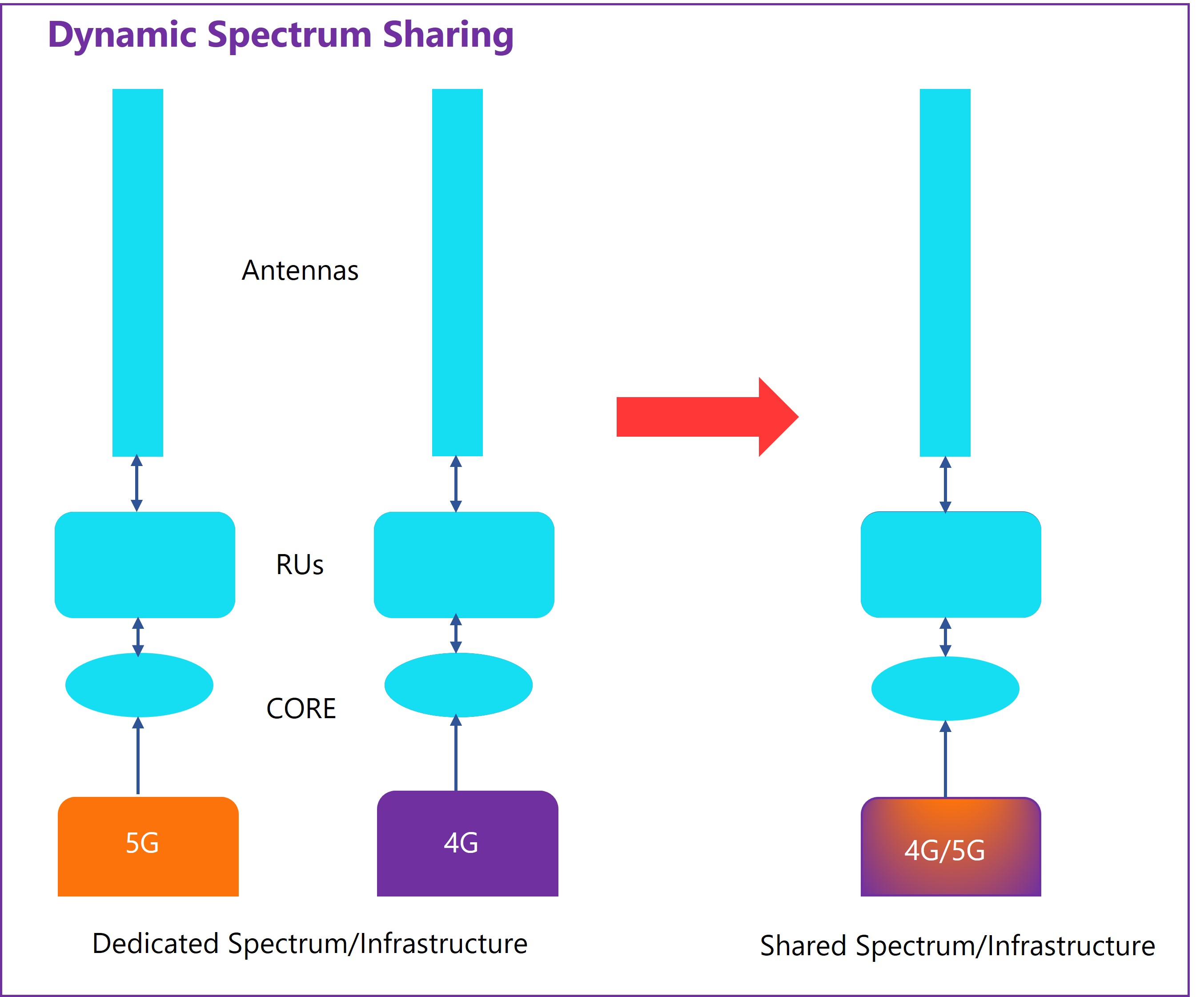 LTE has a marginal impact from DSS due to challenges involved in changing a successfully deployed mobile technology to upgrade to next version. However, a 5G NR device requires to identify synchronisation signal blocks (SSB) to access the mobile network. SSBs must be sent regularly by the network to maintain synchronisation in time and frequency range. Transmission of SSBs is defined within a gap range on an already occupied frequency channel utilised by the LTE network.
At first, DSS is tested on NSA mode. This means the 5G smartphones/devices are enabled with two active radios namely – LTE and 5G NR. The LTE part abides by the identical principles as an LTE-only device. The 5G NR portion scans a specific targeted frequency band enabled for sharing to recognise the transmitted SSB within the open LTE subframe on the desired channel of frequency.
DSS operates under the potential of 5G as only three subframes are available for 5G NR. It additionally facilitates the use of subframes that are specifically configured for LTE and not for MBSFN (multicast-broadcast single frequency network).
How can users be benefitted?

From the user perspective, DSS technology means: Surfing within the radius of DSS antenna through a 5G enabled smartphone, user will be allowed to surf in the 5G standard. Conversely, surfing with a 4G smartphone within the signal range of the same DSS antenna, user will get 4G signals. In a nutshell: one antenna serves two mobile networks.

Allocation of frequency in a more efficient way and optimising the utilisation process provides a better immersive experience to users.

Additionally, the LTE standard witnesses a surge in the bandwidth. As MNOs use Dynamic Spectrum Sharing, they make an additional and new spectrum range available for LTE consumers. Consequently, they can surf the network faster than ever.
Extensive network testing required for implementation of DSS

DSS requires extensive testing. 5G and LTE user equipments are tested in a lab environment. Here, network measurements are done utilising scanners and devices to assess coverage and end-to-end network performance.
No existing LTE deployment should be interfered by DSS activation within the network. Configuration of MBSFN (multicast-broadcast single frequency network) subframes should not have any impact on LTE-enabled devices. Active MBSFN ensures minimal impact on LTE performance by performing E2E throughput tests. Regarding 5G NR comprising SSB, MBSFN subframes are transmitted and receiver sensitivity assessments for LTE devices must be favourable. This is performed to ensure all requirements are attained by the device in the presence of 5G NR.
For dynamic spectrum sharing in 5G, synchronisation of time and frequency with the 5G radio access network (RAN) should be executed by a 5G NR enabled device when transmission of SSBs is occurred within MBSFN subframes (configured). When 5G NR is delivered to non-MBSFN subframes utilising an LTE CRS rate-matching pattern for NR's PDSCH, correct implementation of stack features is verified through a data speed test. Such an advanced device testing comprises dynamic scheduling methods twinning the E-UTRA NR resource coordination method.
Telcos using DSS to expand their 5G coverage

Samsung commercially deployed its Dynamic Spectrum Sharing technology in the United States over a virtualised 5G RAN. The solution offers much more flexibility to customers due to its usability on both traditional hardware and virtualised radio networks.

Deutsche Telekom has already been using DSS in 5G rollout. It means that the existing network antennas do not need to be extensively transformed to expand 5G wireless networks. Moreover, only fewer sites are required to place new 5G antennas in the base stations. Instead, current network infrastructure can be optimised to be used for 5G thereby saving time and money.

With the launch of Apple's latest 5G capable iPhone, Verizon launched its DSS technology used in the smartphone. The step allowed Verizon to gain pace with other 5G services offerings provided by AT&T and T-Mobile.
Conclusion

Mobile network operators are counting on a rising spectrum sharing technique to bridge the gap between 4G LTE and 5G technologies thereby expediting the deployment of 5G services in 2021 and beyond. With DSS technology in place, wireless mobile operators can use 4G LTE spectrum to bolster the next generation of services by upgrading the software to 5G New Radio (NR) -enabled radios.
Since 5G will use more of spectrum assets with users signing in huge numbers, a larger range of 4G spectrum will be released. This will ultimately result in top-notch data speed for 4G users due to less traffic in the wake of decrease in the number of 4G users. MNOs across the globe, planning a smooth transitioning to 5G NR using DSS, are partnering with the growing number of DSS infrastructure vendors to expand its capabilities and empower network services to users and get back more revenues than invested.