What is Open Ran and what does it mean to telecom industry?

Open RAN is a new term gaining quite popularity in the telecom industry for quite some time now. But what it is actually? And, how is it different from the traditional network, for example 4G cell tower?
It is nothing but a virtualized RAN which is generally being adopted by Mobile Network Operators (MNOs) to replace legacy, single vendor RAN solutions and build scalable and stable 5G architectures. Open Ran is an umbrella term that constitutes some part as Cloud Ran (C-Ran); some as Virtual Ran (vRAN); and open-RAN (with hyphen) - a subset of vRAN. Digitization of cellular networks with previous generations and the recent one being 5G, operators have to go through several technical complexity as they move forward with execution of different steps. Though there was a possibility of collaborating with one vendor for core network and the other for RAN initially, expense of adding other functional capability deprioritized the interoperability between RAN equipment from multiple vendors. Consequently, mixing vendors for the base band and radio unit with current solutions is rare and operators have to opt solutions coming from a single vendor.
To unlock the traditional RAN solutions and make it more compatible, network operators, application developers, system integrators are working together to accomplish Open Ran initiatives embedded with C-Ran, vRan and open-RAN altogether. Virtually enabled, Open RAN will assist network operators and other industry verticals empower intelligent radio resource control and network automation, thus reducing network integration costs and operational complexity. Now, with the deployment of 5G networks taking a faster pace, telcos are preferring this next-gen advanced solution to decouple hardware and software promised with greater interoperability among several components of the network developed by multiple vendors. A recent research made by OMDIA is expecting Open RAN to generate about 3.2 billion USD revenues annually by 2024 where 9.4% will be contributed towards 4G and 5G market.
Is it capable enough to change the role of Communication Service Provider (CSP)?

Being operator driven, CSPs can drive their own network with O RAN 5G amalgamating best-of-breed networks together. The vision with Open Ran implementation is that it is open within all areas – interfaces and OS (operating system) bifurcating the RAN control plane from user plane, establishing a modular base station software stack operating on commercial hardware having open north-bound and south-bound interfaces. Validation and management of multi-vendor solutions is done by implementing system integrators and ultimately assists in cost optimization and saves time to deliver the solutions to market i.e., to end-users. Thus, we can expect Open Ran to process a handful amount of activities in the years to come which is currently undertaken by operators. One of the leading companies in Open RAN development, Vodafone recently identified that the network equipment supply in telecom worldwide has been dispersed among a few enterprises over the past years. Increase in the number of suppliers with various options will expedite service delivery to all mobile customers bringing innovations and augmenting flexibility, and most importantly address cost challenges faced by operators to impart network connectivity to remote places and rural communities globally.
Here are few companies that are embracing Open RAN solution:
Open Ran architecture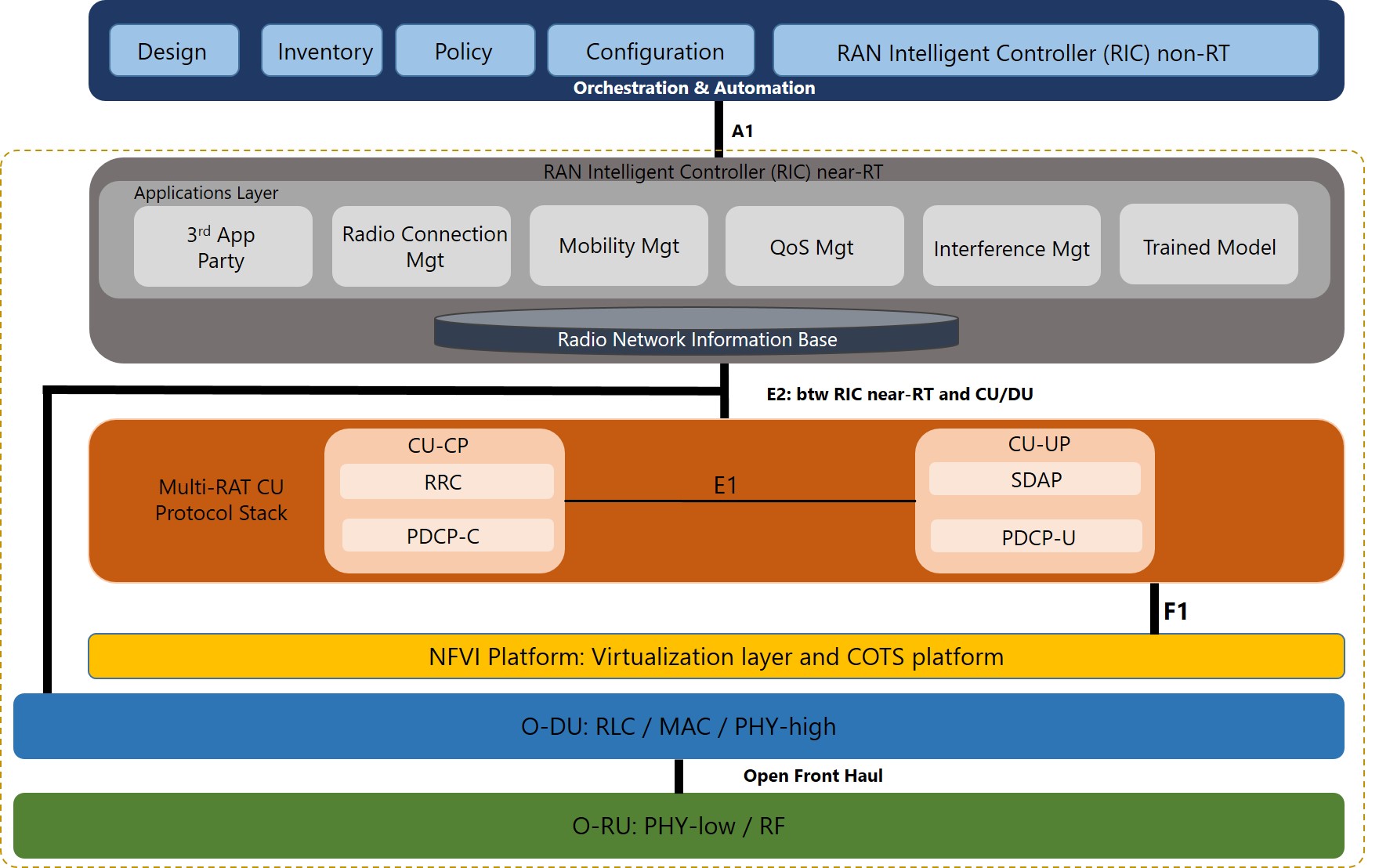 Radio Access Network (RAN) is segregated into three building blocks:
The Radio Unit (RU) - Located adjacent or fused into antenna, this unit allows radio signals to transmit, receive, amplify and digitize.

The Distributed Unit (DU) - It consists of computing components of the base station and sends digitized radio signals into the network being placed at or adjacent to the RU.

The Centralised Unit (CU) - Similar to the DU functionalities, Core network has the CU unit to send and receive signals.
As the name suggests 'OPEN RAN' is a mixture of two different words Open and RAN which clearly defines 'opening' the interfaces/nodes of RAN structure constituting these blocks as mentioned above. O RAN Alliance disaggregated RAN in terms of 11 variety of interfaces that comprises:
Fronthaul - builds a connection between RU and DU

Midhaul - intermediate links between the CU and DU

Backhaul - connects RAN to the core network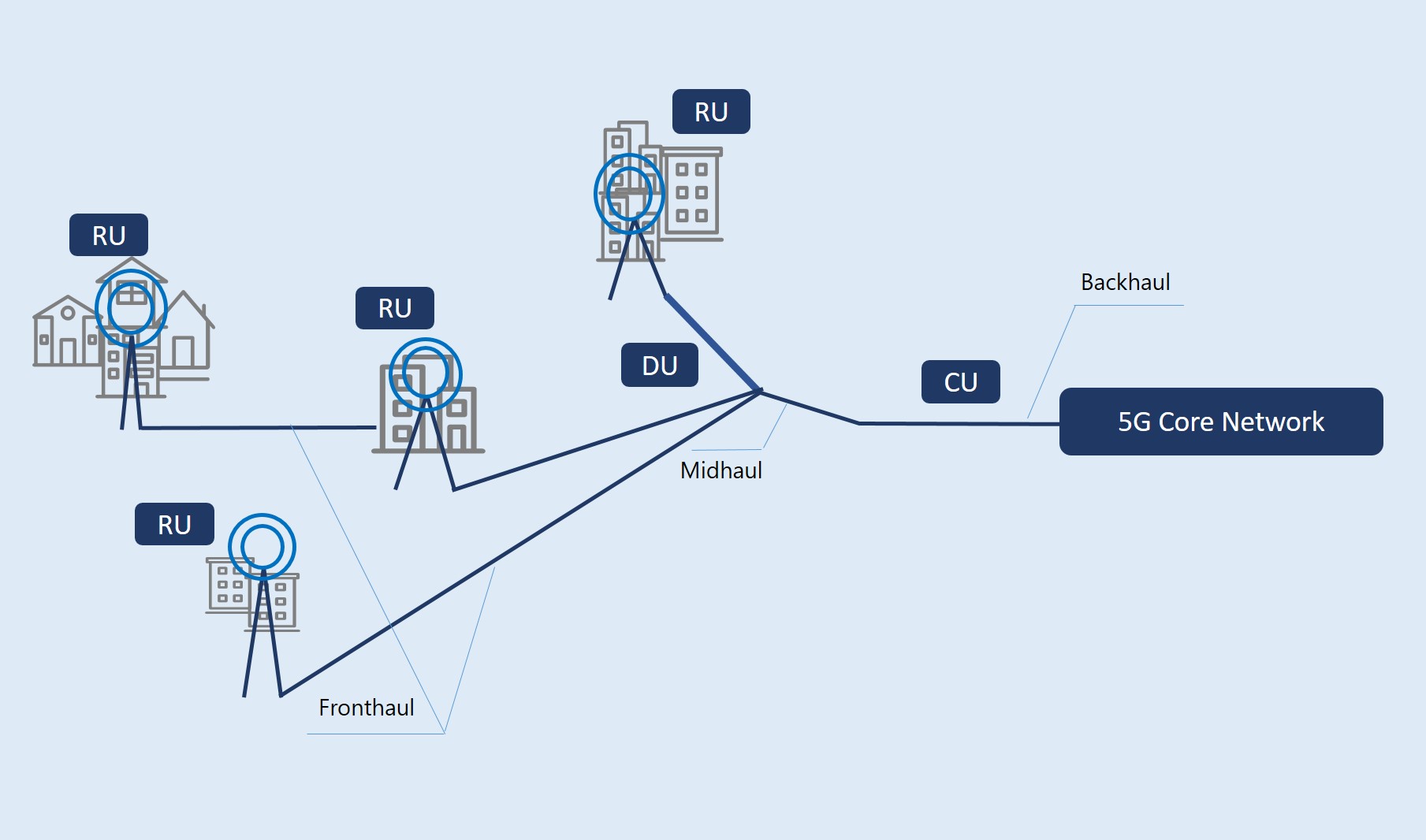 The motive behind the development of new-gen RAN infrastructure by the O RAN Alliance was to go virtual on open hardware with Artificial Intelligence (AI) deployed intrinsically to radio control promoting open and intelligent RAN.
O RAN architecture is developed with functional modules including the O Ran RIC (imparts programming capability to the RAN) non-Real-Time layer that allows to perform operations comprising analytics and policy management, and the RIC – near Real-Time layer allowing to perform time sensitive operations like handover, load balancing and detection of interference. Integration of layer permits the RIC near Real-Time layer to benefit from modules that are intelligently trained and real-time control functions propagated by the RIC non-Real-Time-layer.
The virtual platform has a multi-RAT CU protocol stack that bolsters protocol processing for 4G or 5G while allocating virtual resource and building security isolation. Further, the Open distributed unit (O-DU) and open radio unit (O-RU) elements are integrated via an O RAN fronthaul interface with a well-defined lower level split (LLS) capable enough to support RoE and eCPRI. Open RAN supply chain is expected to drive congruity, innovation and competition as more standardization is added to these interfaces.
Further, deployment of open Ran involves decision from operators to place vBBUs by evaluating the current infrastructure that can be reused and how they can deliver connectivity and beyond. In this regard, some operators are preferring centralised locations for BBU and others are making putting open-RAN, vRAN technologies adjacent to antennas to get desired output. The open interface between the BBU and RRH/RRU enables software to work on it irrespective of any vendor and the virtualization it offers, operators are able to run software-based network functions on standard servers. For instance, unlike traditional solutions, virtual new-age Open Radio Access Network solution facilitates MNOs to apply radios from one supplier with processors from another one.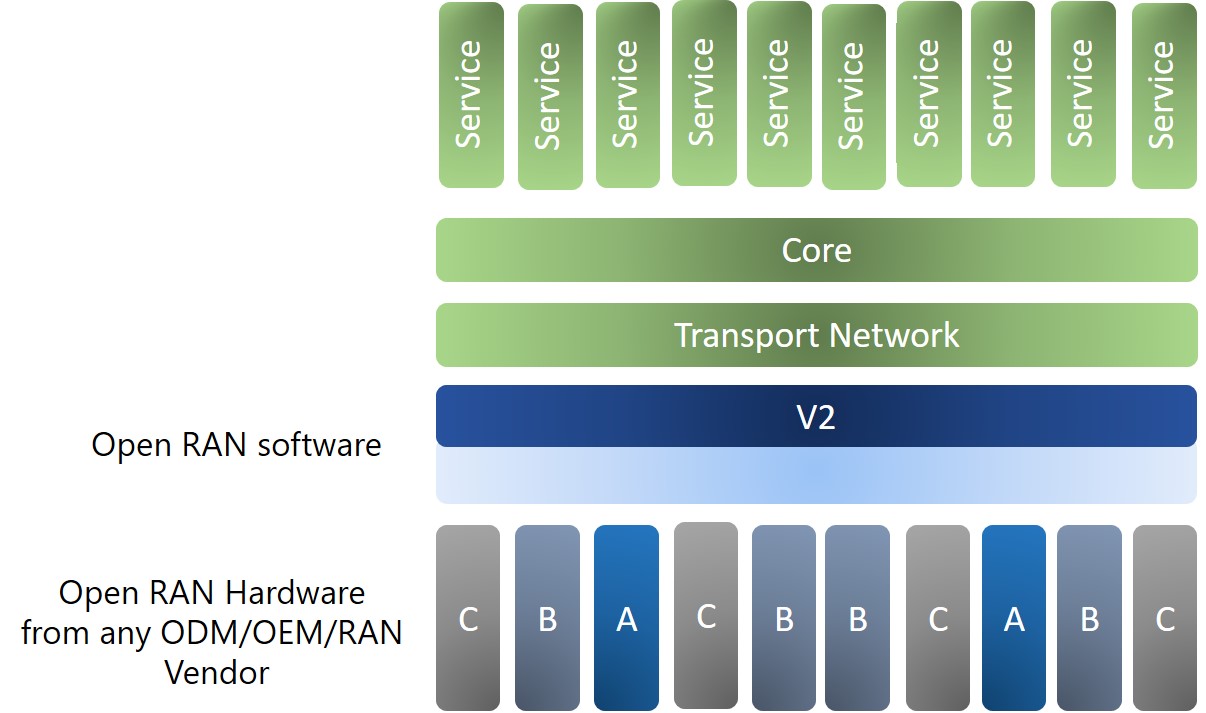 Advantages and disadvantages of Open RAN presented to operators

Space for multiple vendors act as a building block adding on to more innovation and options for the MNOs in this open environment developed in the Open RAN ecosystem. Additionally, new features/services can be added. Engineers are being leveraged by operators to get an idea of their market as they deploy system integrators to enable transition to Open RAN. Benefits of Open Ran include: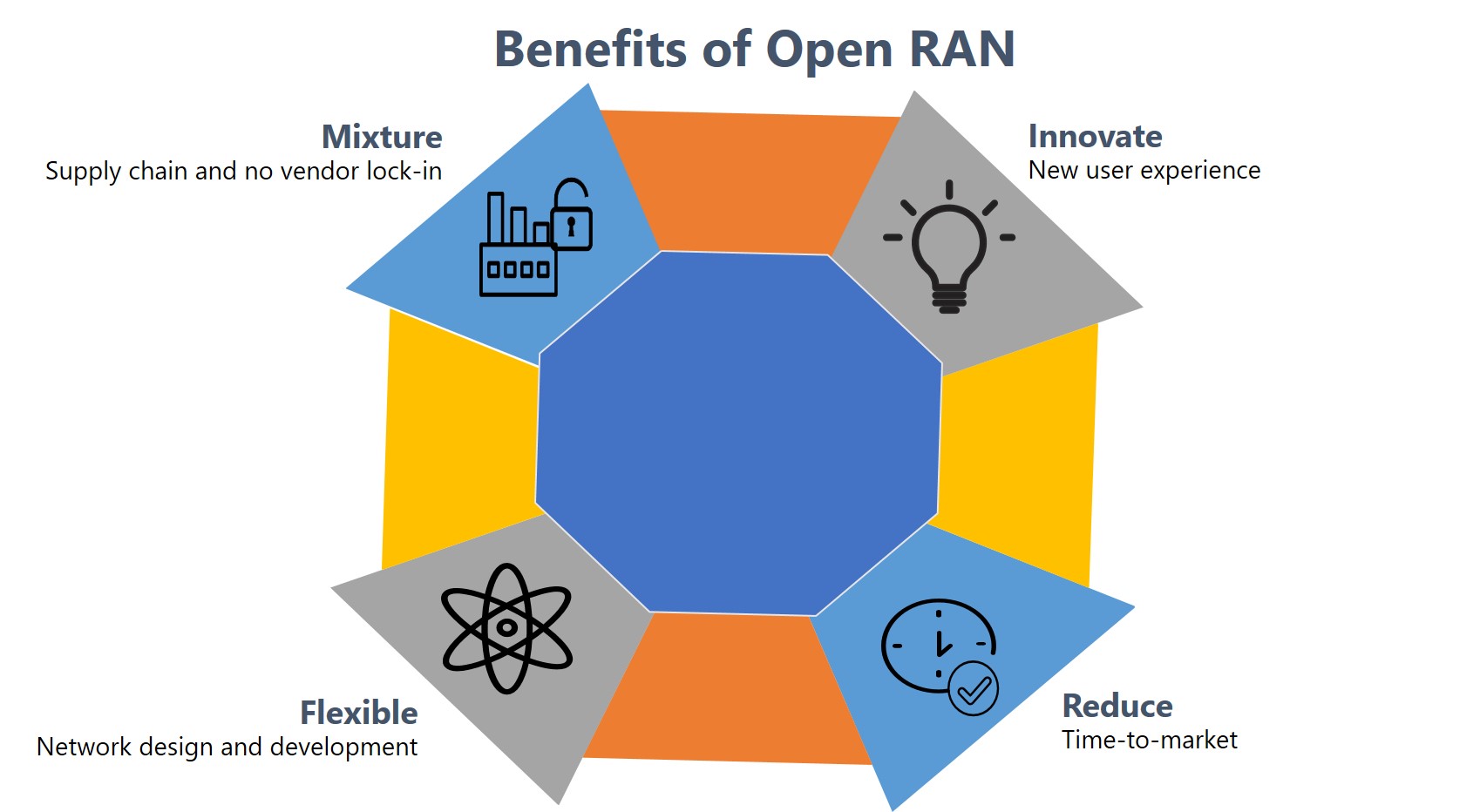 Collaboration among multiple operators with sharing of networks.

Cost savings eliminate vendor lock-in, third-party testing benefits.

Possible disaggregation of hardware and software with software-defined and furnishing old networks cloud-native is what is being called as software-defined O RAN. This open nature of the networking solution in congruent with diversity of vendors and reduction in CAPEX and is beneficial for operators.

Network automation can be performed by automating deployment and maintenance tasks and curbing OPEX.

Placed at the central portion of the network is what makes Open Ran architecture to be scalable with an access to run transport and core networks as apps/services without being silos. Also, it enables operators with the agility that accelerates the entire process to deliver deployment of networks faster, higher speed with no capacity or threshold in coverage when benchmarked with traditional methods.
Though Open Ran presents clear benefits to operators with increasing the number of RAN vendors in their network, it comes along with cons as well:
Smaller operators are reluctant to choose multiple vendors as it will add more complexity of managing them.

Companies specializing in integration may lose business as 5G Open Ran integration will not require any specific OEM experience and carriers can choose any IT vendor to perform this functionality.

Built with a network of multiple vendors could raise a critical question when Open Ran has an issue, like in case of failing of overall KPIs, how do operators point to the specific network equipment that is creating disturbance and where they should head up to? Who will take the charge to resolve the issue where there is a presence of multiple vendors? Moreover, who will be assigned for integrating different components from different Open RAN vendors such as for various applications, OSS/BSS suppliers, RAN and small cell suppliers and many more.
To conquer such challenges, operators must have a comprehensive test suite for covering various modules for lab validation, assurance of networks with field deployments. Moreover, it is a requisite to check whether this Open Ran technology is suitable with previously deployed 4G equipment's and its interoperability and responsiveness towards different UE environments. This requires intensive 5G network testing to be executed in the lab before 5G deployment takes place, suppose, performing a network slicing test is not matching essential list of requirements for latency, then it's in the lab they need to monitor the latency KPI from the RU to the DU and from the DU to the CU so that desired output is achieved before placing it on the commercial site. Mobile network operators and service providers need to work together to ensure that the networks function smoothly in the presence of different players in the network.
Conclusion

Open RAN is designed to offer a wide a spectrum of interoperability built on a cloud-native virtualized architecture gaining a competitive edge in the business market unlike traditional RAN systems. The Open RAN 5G ecosystem creates partnerships among OEMs, system integrators and operators aimed at developing new technologies and bring it to market in a cost-effective way thus opening an array of opportunities for stakeholders. Open RAN's prime objective is to take the edge off from a single vendor and make a truly interoperable telecom network. On their way to overcome challenges in Open Ran setup comprising C-RAN, vRAN, Open-RAN and reap the benefits, operators need to involve in critical testing procedures that will test end-to-end performance from RU to CU to DU and vice versa and its compatibility with legacy 4G components in the network. This will permit operators to encourage best-of-breed vendors, select and examine their different network components before going live while keeping a strategic focus on investment, delivering innovation and enhancing overall efficiency.