What is VoNR 5G and ViNR 5G? What is its market size?

5G networks, specifically NSAs being deployed across the globe by many Mobile Network Operators (MNOs) to benefit from low latency and high data throughputs but what are the next big features in 5G? Next prominent features that we can expect in 5G SA are Voice over New Radio (VoNR) and Video Over New Radio (ViNR), which have become the spotlight among MNOs to facilitate calling and video services to their customers with the utilization of fifth-generation network.
As we all know, 5G comes with a unique characteristic to deliver responses at a minimal time i.e., less than ~1ms, and quick exchange of data signals results in improved sound and picture quality. But what makes it different from other legacy calling and video services? This new-age technology is enabled with low-latency feature with an enhanced audio and video quality and that is what gives its users advanced immersive calling experiences. To be in detail, VoNR 5G is a calling service that utilizes 5G StandAlone (SA) architecture for voice processing whereas ViNR 5G is a video service built on 5G SA to enable customers with high resolution video quality. Global operators are using SA architecture that is being considered as one of the primary networks for future 5G networks. They are putting down efforts to build network configuration and upgrade capabilities of VoNR calls and ViNR video qualities.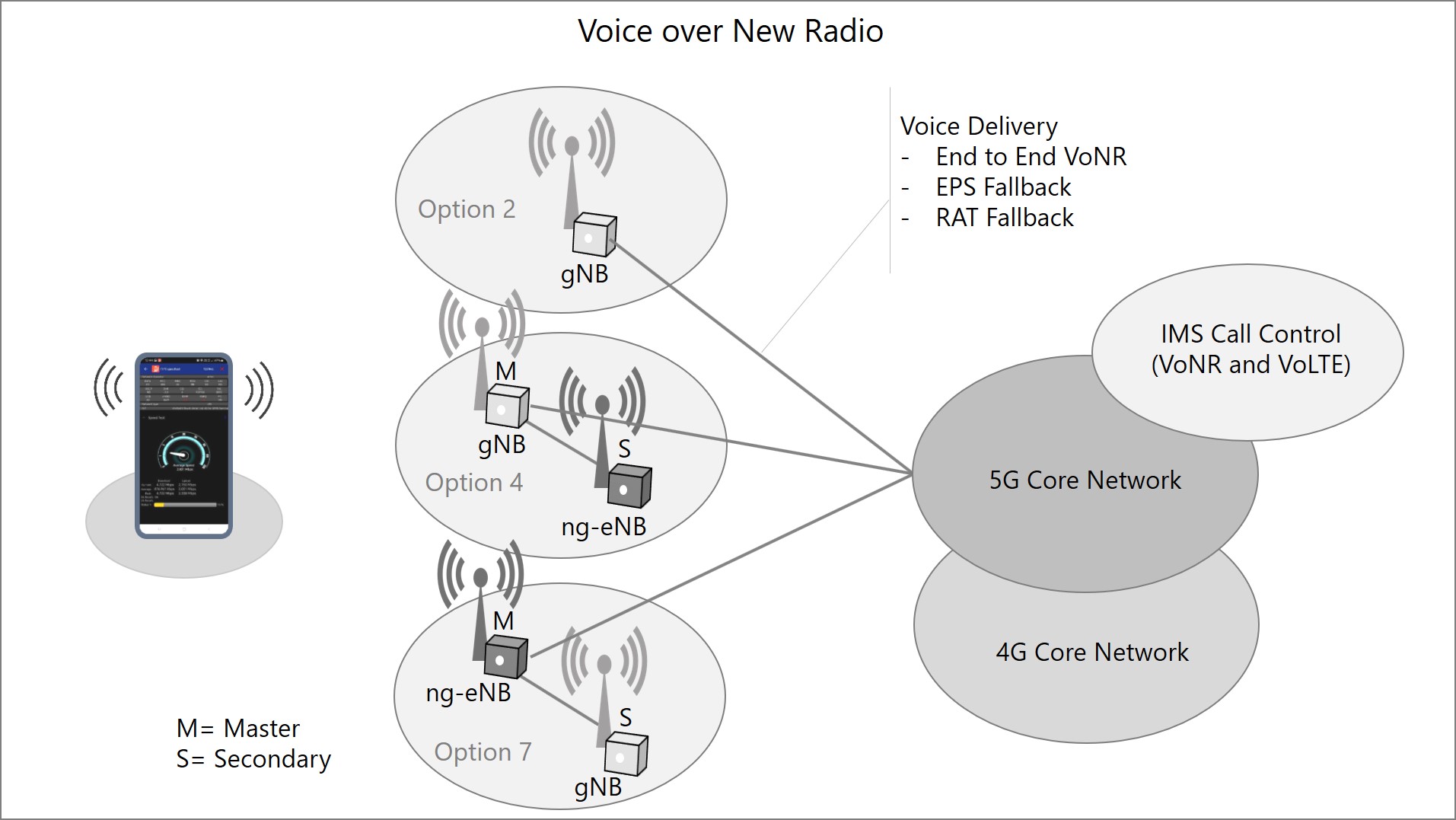 With the growing demand for high bandwidth-based internet protocol and low latency in voice calling, Vo5G (supports audio/voice as a crucial component for a variety of services and apps for consumers and industries) is expected to grow in the coming years where North America would be leading the space having 29.1 billion USD during the forecast period 2018-2023. Further, Asia-Pacific and European regions are likely to witness growth at Compound Annual Growth Rate (CAGR) of 77.7% and 69.3% respectively during the period due to increase in implementation of advanced voice solutions in real-time communications in the IoT (Internet of Things) sector. In Europe, Germany and the UK are forecasted to become the leading players in the market, in supporting the demand for VoNR from European 5G subscribers and other IoT consumers.
Benefits of VoNR and ViNR

Today's generation is almost dependent on technology for communication and other critical works where Voice over NR 5G and ViNR 5G are playing pivot roles in facilitating with benefits and opportunities as given below:
Next-generation apps and services will have Vo5G (enhanced voice/video communication technology) as a primary component to enable users with immensely exciting calling and video experiences and performing 5G network testing is key to improve overall voice/video user experiences.

5G packet core is the key enabler for VoNR 5G and uses a cloud-native approach supporting network slicing and provide lower latency. With this, ViNR is allowed to run natively instead of functioning as over-the-top data service which means no need of any app to run such services, as mentioned by T-Mobile last year in May 2020.

Vo5G services will need a 5G enabled phone/device giving ample opportunities for device manufacturers to build sophisticated devices such as smartphones, tablets with applications like Augmented Reality (AR), Virtual Reality (VR), and Mixed Reality (MR), Tele-robotics control, remote doctor consultations with Telemedicine, and different Internet of Things (IoT)-enabled applications and services using VoNR technology.
Development of 5G networks with Voice over technology

Voice services have been playing a vital role paving the way for mobile wireless communications. Consumers have received multiple benefits such as HD voice calling with Enhanced Voice Services (EVS), Rich Communication Services (RCS) and Video Calling as voice calls were transformed from circuit-switched 2G/3G networks to 4G LTE networks i.e., 4G packet-switched Voice-Over-LTE (VoLTE) networks. Operators conducted testing for VoLTE calls with UE and multiple call tests on variety of numbers – customer care numbers, toll-free numbers, and unique virtual numbers. Now, the current 5G era has certainly opened new avenues for Voice-Over-New-Radio, VoNR on 5G network that brings enthralling new opportunities to upgrade call quality, curb OPEX for mobile network operators and accelerate migration of network technology. Test tools required for validation of VoNR KPIs for instance, operators can validate VoNR on 5G network with RantCell, an auto call software enabled to test hundreds of numbers or voice hundreds of test calls in less time.
Planned to introduce 5G into existing networks in a phased approach, while transitioning 5G from non-standalone (NSA) to standalone (SA), wireless operators will utilize Evolved Packet System Fallback (EPSFB) temporarily to develop VoNR solutions. Further, 5G NSA networks are supposed to use the IP Multimedia Subsystem (IMS) services similar to VoLTE technology leveraging LTE/VoLTE footprint and enhance capacity and boost delivery efficiency. On maturing of 5G SA networks, NSA and SA will be synchronised in MNO's network to ensure existing voice services over NR function properly.
In 2020, T-Mobile joined hands with Ericsson and other industry leaders to showcase the first 5G SA networks enabled with VoNR and ViNR services. Reliable and powerful wireless networks have always been essential and is a great milestone in telecom industry to step forward with the development of 5G technology. Standalone (SA) 5G clubbed with deep and broad networks will be a huge leap in the wireless industry transforming it in a positive way and promoting adoption of 5G services. Now, as 5G is being rolled out globally, operators are preparing for the next level to build Standalone (SA) 5G to deploy VoNR and ViNR services on a large-scale.
Companies across the world embracing VoNR, ViNR technology

Live 5G SA experiments for voice and data calls were carried out using VoNR by Swisscom where carrier aggregation was done from Ericsson Spectrum Sharing. Two different chipsets in smartphones OPPO Find X2 Pro and OPPO Reno 4Z 5G were used to make calls on Ericsson 5G Radio Dot, IMS, and 5G Core deployed on Ericsson NFVI.

A1 Belarus in partnership with ZTE recently made the pilot 5G HD call within the surroundings of test 5G SA network applying VoNR 5G technology. It used smartphone built by MediaTek Dimensity 1000 series SoC launched at the October Square by A1 in the test mode.

T-Mobile conducted its first Voice Over New Radio call (over 5G network) on production network closely with Ericsson, Cisco, Nokia and MediaTek. And, also performed Video Over New Radio 5G (ViNR 5G) call on production network with the collaboration of Nokia, Ericsson, Cisco and Qualcomm Technologies.
Conclusion

Innovations through 5G technology is becoming quite interesting with each passing day. No doubt, this new-age wireless network has generated numerous use cases such as Industrial IoT, VR/AR, uRLLC, it will also drive the quest for not only new services but also present-day services such as voice and video services to evolve to VoNR 5G and ViNR 5G side by side of the 5G network. Development of 5G has already gained momentum with focus on establishing non-standalone and standalone network. Compared to SA network, NSA network is cheaper and faster with less time to market as it is built on the existing LTE networks with a feasible option to start deploying VoNR solutions on the latter. Progressing with 5G networks, both these technologies will advance at a rapid pace with scalability and super flexibility in new-age services. With increasing demand for voice and video services among consumers and businesses, it's important for MNOs to invest in such technology and are performing live experiments/testing before making it commercial worldwide and enable their users with an advanced quality of voice/video experience.