What is a private 5G network?

Private 5G network nowadays is gaining traction in industries like manufacturing, mining, education, healthcare unlike previously where this one-of-a-kind network was reserved only for government, military and emergency organizations. But things have altered significantly with the evolution of 5G wireless networks and the capabilities it possesses to bring a new way of wireless communication across organizations serving their critical needs in a much more efficient and secured way. Many organizations like AWS are offering private network solutions with APN Partner products and services that includes AWS Cloud-Native, AWS edge services, etc. to build private network.
What are the challenges in implementing private 5G network?

Designing an entire network is a herculean task and network planning needs to be done while proceeding to build your own private 5G network.
Regulatory norms – Radio spectrum is a crucial component that is required to improve 5G network speed. Nevertheless, such resource is not quickly available and involves regulatory norms where different countries have their own set of standards and regulations that need to be followed by operators if they are looking to amend network connectivity in a particular area with the desired spectrum for private network.

Technical Challenges – With 5G, higher frequencies (6GHz and above) are being adopted due to higher data rate transfer which reduces serialization delays, and lower latency of ~1ms (theoretically) for 5G networks which is being reduced from previous latency of 40ms (milliseconds) to 25ms for 4G LTE networks. However, higher the frequency, lower is the network coverage as high range spectrum is unable to propagate far from its starting point.

In such scenarios, operators have to set up multiple cell towers in high density locations like cities, business centers, downtowns etc. They might have to enter into agreement with private building owners to let the service providers place their network base stations due to scarcity of land in such areas. Though all this will account for only outdoor coverage for private networks in a 5g world, network outage still needs to be prevented indoors of building.

Challenges related to connectivity and security - Security is a major concern wherein private 5G network architecture offers better endpoint security unlike public cellular networks. However, applying strict security measures on the network cripples network connectivity. Though operators want to deliver broad network connectivity, they have to struggle with imperfect software for giving best of security to users. Cloud providers like Amazon AWS, Google Cloud, Azure are allowing operators to create their own private cloud model on their platforms and implement security measures to protect confidential data assets over the public cloud.
Essential components to build a private 5G network

A mobile private network is a network solely for an enterprise customer which includes dedicated network components on enterprise location. A dedicated RAN equipment which can connect one or more locations of enterprise with data and voice functionality is utilized by the network. The objective of this is to provide your organization with greater ability and control of the network performance metrics like latency and bandwidth management, Quality of Service (QoS). Further, it assists mobile infrastructure in prioritizing traffic for business-critical applications. The below given table shows network components that are required for building a private 5G network.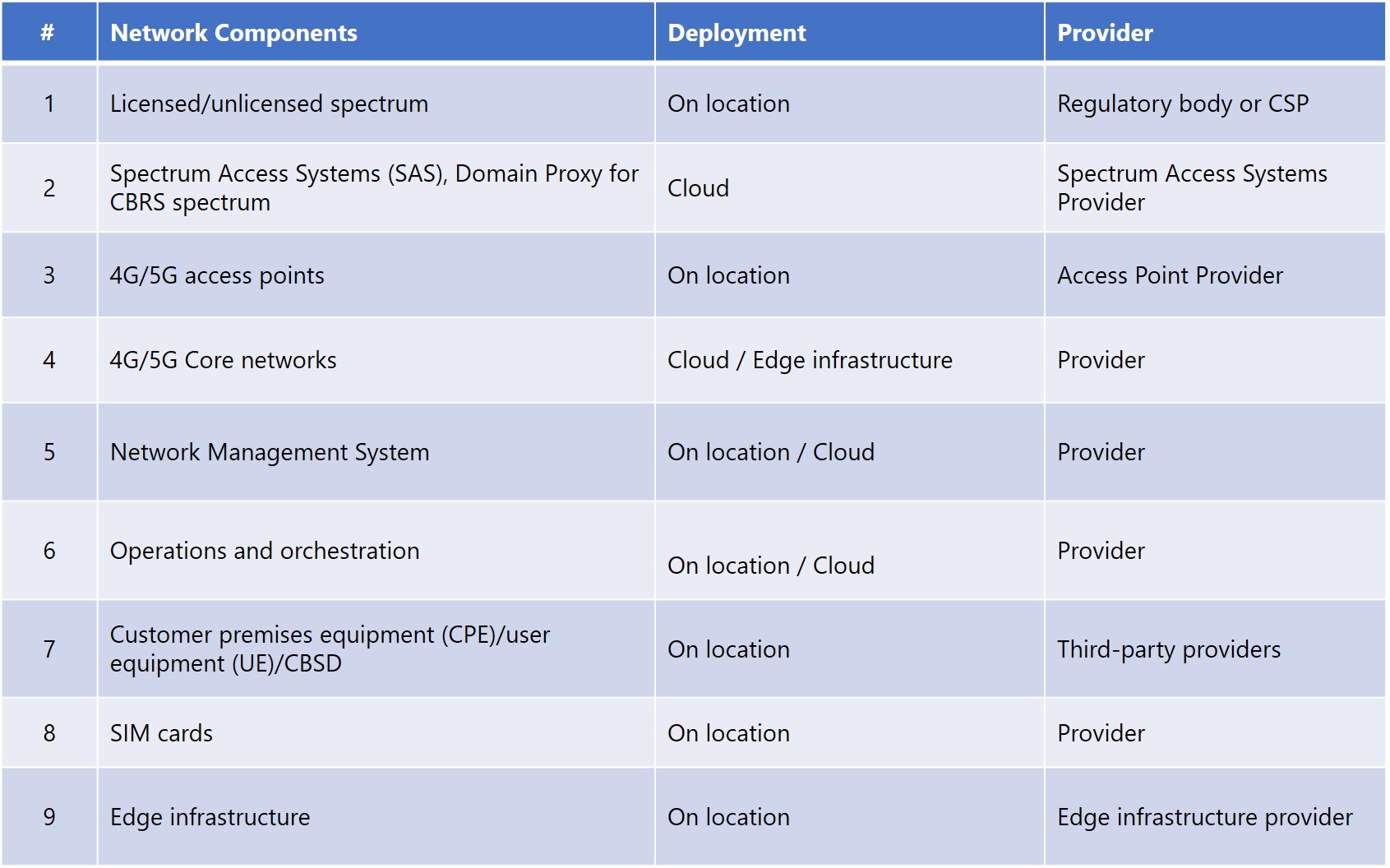 Private network deployment models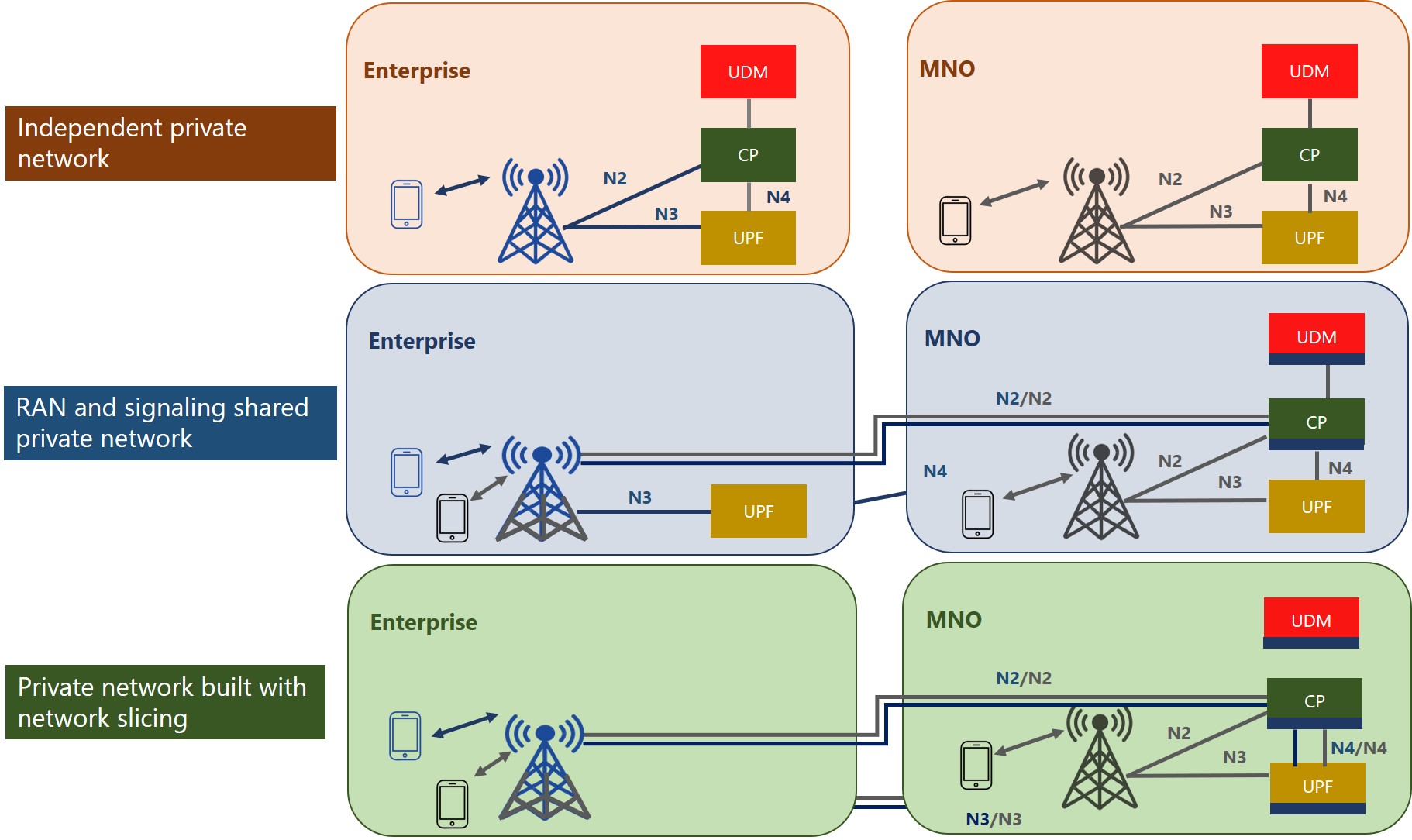 Independent private networks without reliance on public networks - A type of private 5G network architecture deployed completely standalone i.e., SNPN mode with MNO's public network.

Private network with RAN and signaling shared - In this type, RAN is shared with the public network whereas organizational services are handled internally. MNOs also have a control on the network and users for the network.

Network slicing option - 5G technology uses a new slicing concept in which a separate slice is used for specific services (Service-Level Agreements, SLA) depending on enterprise demands and is kept safe and secured without any interference.
Building your own private 5G network

With the implementation of private 5G on a dedicated spectrum of 3.5 GHz (known as CBRS spectrum in US), network devices as well user devices (multiple types of devices) connected through IoT technology across the organization will be connected privately without intrusion of any public network. It will be much more secured than in a public network when we consider private 5G vs WiFi. Some services such as AWS Cloud-Native, AWS edge services, etc. are being enabled by AWS to build private network. Moreover, open-source APIs are available in the market that can assist operators to build virtualized 5G networks with less manual efforts.
But what are the key capabilities that should be taken into account while establishing a private network?
Availability – One of the main benefits of private network is availability that makes it highly desirable. For example, bedrocks in the mining industry are deprived of network coverage from public networks which makes it quite challenging for miners to get the piles of containers in ports. However, private network must be built with downtime as virtually zero and quick control on system maintenance ensuring maximum network availability 24 X 7.

Reliability – Private networks are reliable and developing such networks will enable successful data transmission capability within the stipulated time. It requires sufficient coverage and capacity of network with well streamlined handover functionality for voice and data transmission.

Interconnectivity – Private networks must be capable to connect with public networks. Suppose, mission critical services like ambulances require continuity in network services while travelling from one network to another which may be transitioning from private to public network. This entire activity is dependent on proper integration of networks to communicate seamlessly in demanding situations so as to provide proper care to patients in time.

Quality of Service (QoS) with enhanced security - QoS is basically dependent on throughput, latency, call drop rate, etc. With private networks applied on a dedicated spectrum, gives a control on offering best system performance and use specific resources, apply strict security measures to protect from cyber threats thus satisfying business needs for an industry vertical.
Some of the examples of private 5G networks being built by operators worldwide:

Ericsson has partnered with the Changhua Telecom (CHT), an operator based in Taiwan for deploying a private 5G network. The project is aimed at building a strong connectivity at wind farms off the Changhua coast with private network which will ensure smooth wind farm operations and work safety of the employees at the same time, and is expected to be rolled out by Q3 2021.

Telefonica Germany, Ericsson and Mercedes Benz entered into an alliance to create Factory 56 with private 5G network for car manufacturing where all production systems and machines were interlinked and operated via secured 5G covered across 220,000 sq.m of campus area in Sindelfingen, Germany. As a result, the company saw a jump in efficiency by 25% with zero-carbon production when compared to traditional production line at the manufacturing plant.

Verizon and Nokia collaborated to deliver private networks in a 5G world to organizations located in Asia-Pacific and Europe. The solution will mainly consist of Nokia's Digital Automation Cloud (NDAC) comprising core and radio antenna clubbed with Verizon's LAN and WAN managed services. It will be focused on increasing productivity and efficiency, enhanced automation and personalizing customer experiences with cutting-edge technologies like AI/ML, big data, and many more.
Conclusion

Many industries such as mining, healthcare, manufacturing and many more are building private networks in order to meet their digitization initiatives with mission-critical infrastructure having ultra-low-latency and high reliability required for private 5G use cases. Private 5G networks for industrial IoT have been in demand by industrialists across the globe. But, on their way to implement this private network they face critical hurdles which need to be addressed and move forward with a set of strategies for network planning and budgeting to power their internal private network specifically designed based on their networking needs.
This is an opportunity for small companies to come forward as a service provider for building private 5G network and providing wireless solutions to these industries. With the introduction of new platforms such as AWS for private 5G network, cloud services and open APIs available in the market, they can tailor customized private 5G offerings and earn revenues. This will allow their clients to have a secured interface for communication among several industrial devices with real-time monitoring and advanced analytical capabilities enhancing the productivity and efficiency of the organization.