5G ROI: Other than eMBB, five promising verticals with real examples to reap benefits for MNOs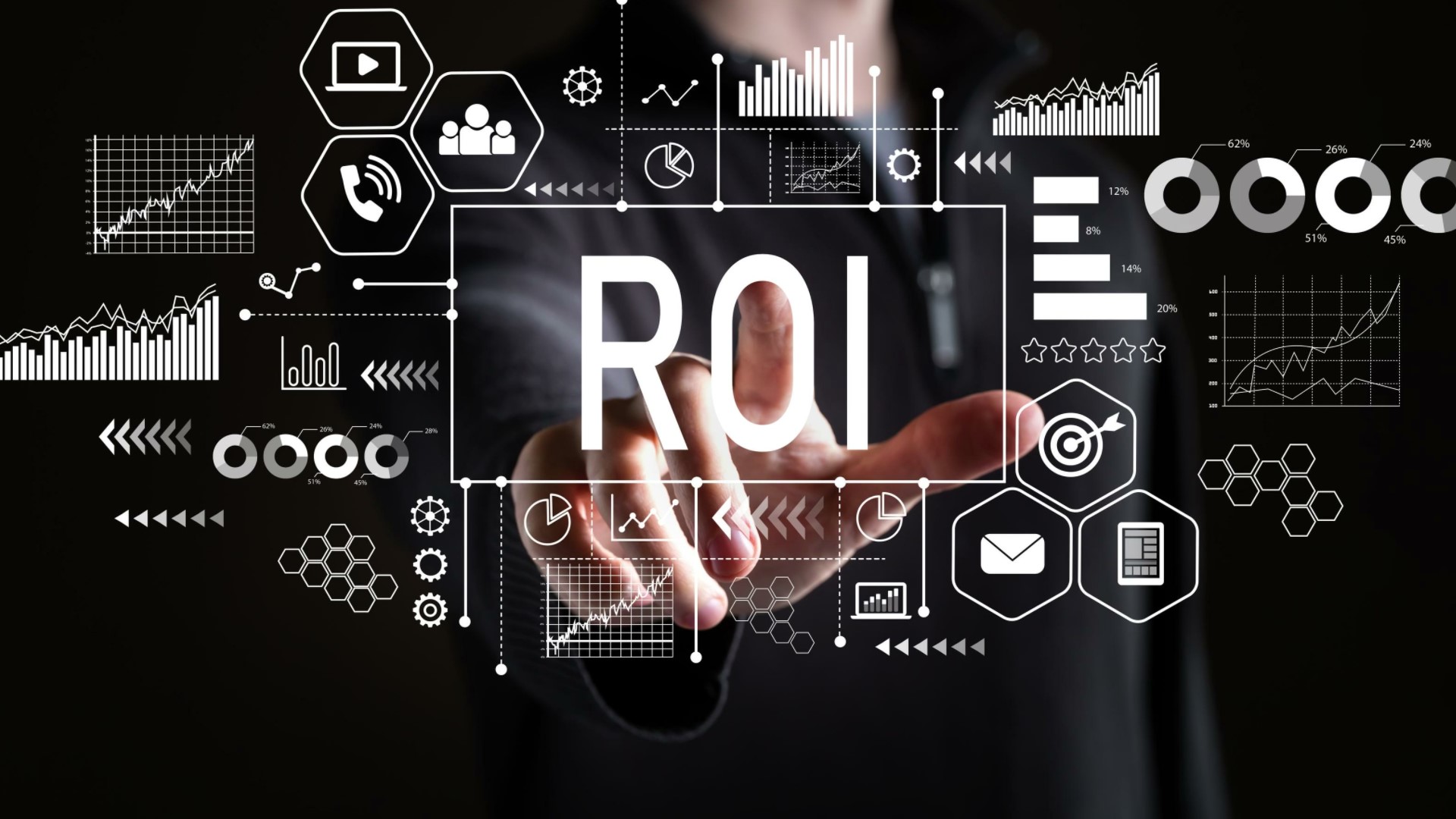 The invention of 5G technology has given Mobile Network Operators (MNOs) new opportunities to deliver faster and more responsive network experiences to enterprise customers and common users. However, it is important to understand the importance of why do we need 5G and what are the key benefits of 5G network which is more than just faster speed and reliable network fueling its implementation across the globe. MNOs are articulating 5G-enabled solutions specific to industry verticals looking for adoption of 5G technology to improve their efficiency and lead them towards business growth. Such a 5G revolution has caused a hype all around which necessitates MNOs to be mindful and leverage 5G future business models for monetization to grow and tap on the full potential of 5G to reap Return on Investments (ROI). Juniper Research conducted a study that estimates to increase in operator billed revenue from 5G connections to stand at $357 billion by 2025 which is a huge increase from just $5 billion in 2020, which is considered as the pilot year of commercial 5G service.
Expectations are, 5G revenue would represent 44% of operator billed revenue globally in the course of rapid migration of 4G LTE mobile subscribers to 5G wireless networks and multiple business use cases enabled by fifth-generation network. But for operators, the question still prevails as how to make money from 5G? The answer lies in the fact that the success of 5G is somehow dependent on operators' monetization strategies and their development of innovative state-of-the art use cases that would bring them home a lumpsum amount of revenue and benefit targeted verticals as well to enhance their efficiency and productivity thereby gaining competitive edge in the market.
How to monetize 5G?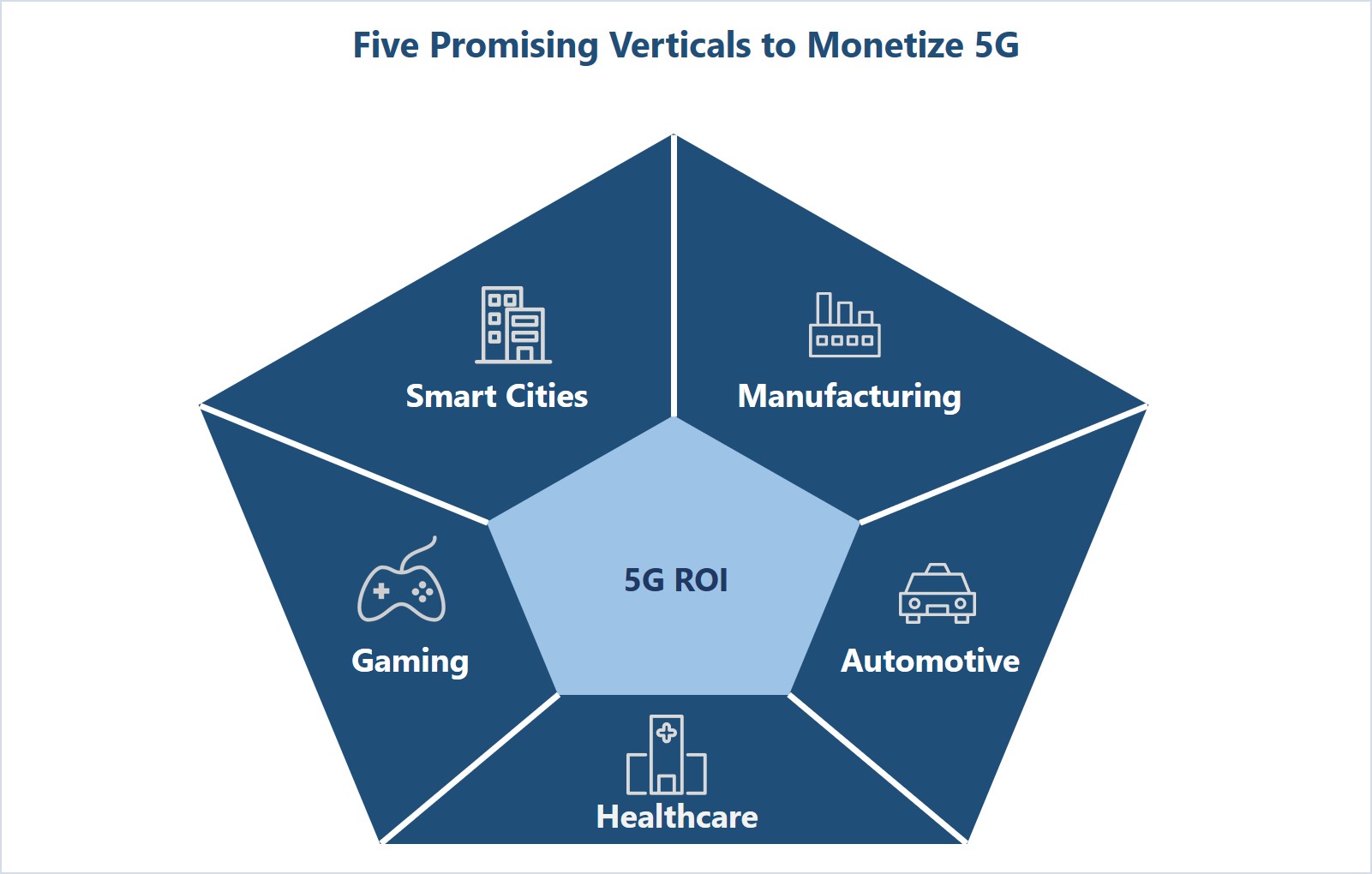 Let us have a look on the five verticals as shown in the above figure that MNOs can target to develop compelling propositions and tap onto new revenue streams.
1. Smart Cities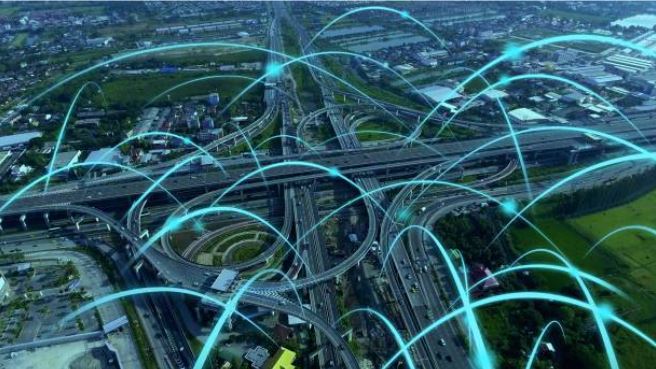 Smart city is anticipated to bring new opportunities with a global market revenue of $7.6 billion for CSPs and network vendors by 2023, as per a research conducted by ABI Research. As a key connectivity provider, operators can leverage 5G technology to enable various smart city initiatives such as mass digitalization of specific public services. For instance, police officers with smart phones enabled to send high quality voice and videos. Provision of data for emergency services for governments in case of any crime and track location of phones. Moreover, operators can resell services on priority basis to enterprises i.e., premium sales for prioritisation services to enterprises.
Monetization Example 1: CSPs providing smart meter connectivity
As new-age technologies are developed to support expansion of urbanisation, countries are making sure these ambitious technologies led smart cities are fully tracked and controlled. All this is being done through smart street lighting, smart electricity, smart meters, smart waste management and other IoT applications giving CSPs wide range of services to work upon and tie up with the government to support its smart city initiatives. IDEMIA collaborated with O2 to motivate UK residents and embrace sustainable energy consumption habits as their homes got installed with smart meters (using IDEMIA's M2M SIM technology) having in-home displays for easier consumer understanding. Around 4 million homes can get real-time information on energy further assisting them to control on their energy usage and put a slash on estimated billing. As a part of UK government mandate, the two companies are planning to install smart meters to 23 million homes in the upcoming five years.
Monetization Example 2: CSPs involving in IoT based connectivity
Deutsche Telekom is actively involving itself in the development of narrowband-IoT with roaming agreements in place covering 20 nations comprising the UK, Spain, US, Italy. The organization is also offering roaming utilizing fellow low power wide area (LWPA) IoT standard LTE-M in 10 nations which includes France and Japan.
Monetization Example 3: CSPs provision of mission-critical services
Etisalat, an MNC Emirati based telecommunications services provider, joined hands with the Ministry of Interior to connect homes and establishments in the nation by linking fire alarm system to the civil defense control room that will ultimately reduce the response time in case of any future emergencies. Other CSPs can work on similar strategy to develop emergency services for the betterment of government and its people thus generating revenues as a byproduct from the services provided.
2. Manufacturing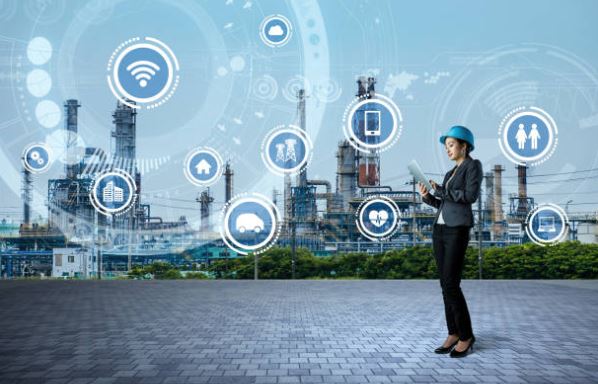 5G wireless networks have the characteristics that can pave the way for critical manufacturing activities. In order to support these crucial applications, low latency and high reliability are imperative; connection density and high bandwidth secure connectivity with larger network coverage. The 5G mobile network will give manufacturers higher flexibility, shorter lead times for reconfiguring production of factory floor, remote quality inspection, tracking of goods in the value chain, real-time machine to machine communication and many more. CSPs can take this advantage to blend 5G, Artificial Intelligence (AI) and edge computing technologies together to create new revenue streams where their pilot role would be to provide 5G network-as-a-service and enhance network access to data.
Monetization Example 1: CSPs automate tracking of goods in the end-to-end value chain
As manufacturers are on the way to turn their traditional factories into 5G smart factories, CSPs can take this opportunity to quickly develop automated solutions that can improve their efficiency and increase productivity. For instance, China Mobile and Ericsson are adopting cellular IoT technology to enable automation. Around 1,000 high-precision screwdrivers are used in the factory that needs regular maintenance – calibration and lubrication based on the frequency it is utilized. The factory involved its manpower to perform this process on intervals and document it as handwritten logs until it deployed automated technology. The automated data tracking solution of connected screwdrivers replaced manual tracking of tool usage data thus curbing manual work by 50 percent.
Monetization Example 2: CSPs improve production efficiency
Instant optimization is a new trend based on real-time monitoring considering factors – performance of sub-components, measurement of quality variations of produced items, influence from sudden change in the environment, interaction by the CSPs, to enhance the efficiency of production activities leading to worker satisfaction with greater security. Telcos can develop such instant real-time optimization services targeted at manufacturers to give more productivity at less time, shorter time-to-market to customers.
3. Healthcare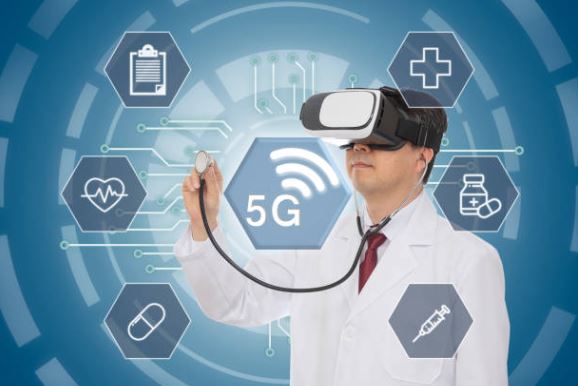 Entering the healthcare value chain will open up several new areas for MNOs using 5G technology with a revenue potential of $76 billion USD by 2026. From precision medicine to VR training in surgeries, ambulance drones to real-time electronic health records (EHR) to remote patient monitoring with online consultations and booking systems for better patient management, operators can be the key enabler of high-end 5G applications for improving care methodologies and give patients a better wellbeing.
Now, patient data generated in huge amount needs to be stored on a central server so that it can be easily accessed and enhance overall efficiency and quality of patient care. Networks are always essential for making the healthcare highly connected with a robust and intelligent network infrastructure like private network. Telecom operators have opportunities in interconnecting hundreds of sites, data centers/sources with an intelligent private network that will streamline their workflows and deliver better patient management and operational efficiency. Operators are looking for diversifying revenue with wide-range of healthcare 5G applications and strengthening network infrastructure in hospitals that will manage massive bulk of data while supporting the on-demand of high-quality real-time care for patients.
Monetization Example 1: CSPs capitalizing on HD-based telemedicine solutions
Leading mobile operator in Japan, NTT Docomo has entered into an agreement with the government of small Yonaguni Island which is located off the coast of Taiwan. It collaborated with NEC Corp to develop high-definition telemedicine service. 5G imaging solutions with high resolution will enable medical practitioners / doctors for instance, dermatologists to remotely monitor and advice patients, discarding the need to visit doctors located far from patients' place. In addition, the company is also collaborating with other IT vendors alongside NEC Corp to display new optimal use cases for rural areas.
Monetization Example 2: CSPs and medical device manufacturers enable remote patient monitoring with wearables
CSPs, medical device manufacturers and healthcare companies are working together to offer connected health via monitoring wearables capable of analyzing and transmitting data to health centers and first point of contact for patients thus improving care. CSPs are deploying dedicated 5G network slice to provide specific health services provided with ultra-low latency, high reliability and Quality of Service (QoS).
4. Gaming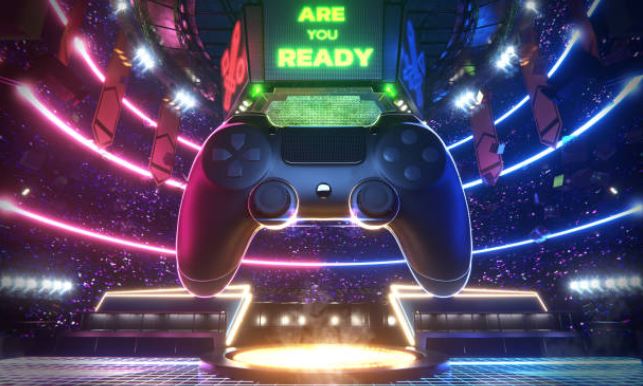 New revolutionary gaming technologies are becoming a part of our entertainment out of which Augmented Reality / Virtual Reality has really stand out in the space. Not only just providing fun and excitement with its innovation and hands-on immersive experiences to gamers/users, but also giving ample amount of growth opportunities to telecom providers in the AR/VR ecosystem as device distributor, connectivity provider, application and content provider to monetize from 5G systems enabled with AR/VR.
Monetization Example 1: CSPs enabling open platform solutions
Telcos will act as key enabler of open platform as it will link various players in the AR / VR value chain , allowing them to develop solutions, and make sure interoperability between players is in place with wide adoption of technology. Telcos can create new service offerings related to 5G services to allure customers and serve their needs of customers. With the generation of new revenue streams via content specific revenue models and sharing of revenues with developers, telcos can also target their customer retention and acquisition strategies. This will assist them in engaging with customers in a better way driving a competitive edge in the market with a higher wallet share across enterprise and consumer market.
Monetization Example 2: CSPs tailoring premium content offerings
Further, telecom operators can partner with AR/VR players to deliver AR/VR applications and premium content depending on user subscriptions. In US, most of the operators are bundling 5G with unlimited data options as a premium add-on side by side digital freebies like Netflix access, personal hotspot services instead of charging an extra amount for 5G-based services.
This strategy of packaging 5G-enabled app for instance, 3D AR shopping, VR cloud gaming, or e-books etc. with more expensive 5G offers can be fruitful for telcos in upselling services to customers. This is expected to help in mobile growth, lower churn rate and increase in revenue as consumers are more likely to purchase 5G handset and expensive plans. Verizon is one US operator who is aggressively monetizing 5G by charging an extra of $10 every month for 5G services to its cheapest plan for unlimited data and indicated to apply it on the expensive unlimited offers as well in the near future.
Monetization Example 3: CSPs striking partnership with gaming developers
A case in point for operators getting benefitted for enabling 5G service offerings in gaming industry – Telecom operators have huge opportunity with game developers with spike in demand for game streaming. In March 2019, Nvidia's CEO specified to earn revenues via streaming games with telecom operators' 5G services and in return telcos will receive more than half of the gaming subscription acquired from the game players i.e., consumers.
5. Automotive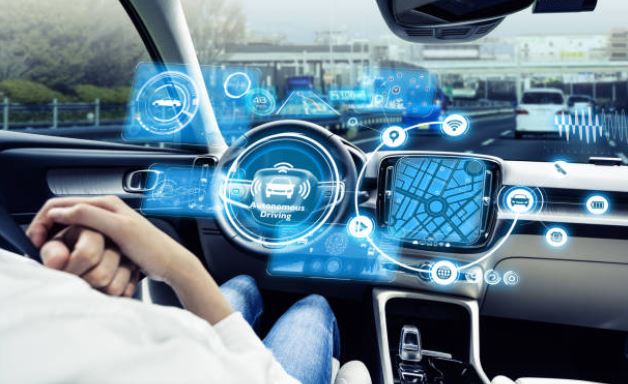 Recently, automakers are showing keen interest on life-cycle monetization instead of gaining revenues at POS (point-of-sale). 5G can act as a catalyst for industries like automotive to meet its diverse requirements in terms of latency, throughput and reliability. Through 5G, cars will be enabled with C-V2X (Cellular Vehicle-to-Everything) connectivity with new functionalities and features that will support direct communication between vehicle-to-vehicle (V2V), Vehicle-to-Infrastructure (V2I), Vehicle-to-Network (V2N).
Monetization Example 1: CSPs acting as key enabler of cars embedded with SIM
Autonomous vehicles and associated services open up several new areas for operators on how to profit from 5G technology as these require mobilisation of automobile ecosystem with well-established, reliable and smooth connectivity. It is estimated that operators could generate an extra service revenue worth $3 billion by 2025 from connected cars installed with SIM i.e., eSIM cards.
Monetization Example 2: CSPs delivering customized 5G-enabled solutions for autonomous cars
CSPs who are evaluating on how to make money from 5G network slicing can surely come up with new strategic ideas to gain profits. With the slicing technology, CSPs can create a virtual network to provide specific services with guaranteed Quality of Service (QoS). It allows them with the opportunity to extend their business areas by leasing multiple virtual networks, utilizing their sole physical network and tap new clients by providing customized service offerings for verticals such as automotive industry. CSPs can leverage this technology to prioritise critical data traffic to give real-time information using V2X communication through 5G wireless network to sense obstacles on road and take instant decisions for collision-free driving.
Monetization Example 3: CSPs bundling 5G services with monthly subscriptions for consumers
Putting down the efforts to create open and integrated platform compatible with different types of vehicles with variety of content formats can lead telcos in giving new revenue streams. They can partner with infotainment providers to develop 5G future business models for monetization and enable customized in-vehicle service offerings like pay-as-you-go high-quality infotainment packages as add-ons to current monthly subscriptions of their 5G subscriber base.
Conclusion

The real promise of 5G for CSPs lies in the opportunity to consider the factor of monetizing 5G as they plan to implement it on a large scale with a variety of 5G-enabled applications deployed to support different verticals based on their specific business needs. As new 5G services will be continuously developed, MNOs will find themselves in the zone of arising opportunities in every sector ranging from manufacturing to automobile, healthcare to gaming to smart cities and many more yet to come. However, MNOs who know how to make money from 5G and strategically play the game with change of roles as discussed in this blog will be at the forefront of the race with new revenue streams in hand and achieve their business goals thus expanding the vision of implementing 5G technology into a reality.